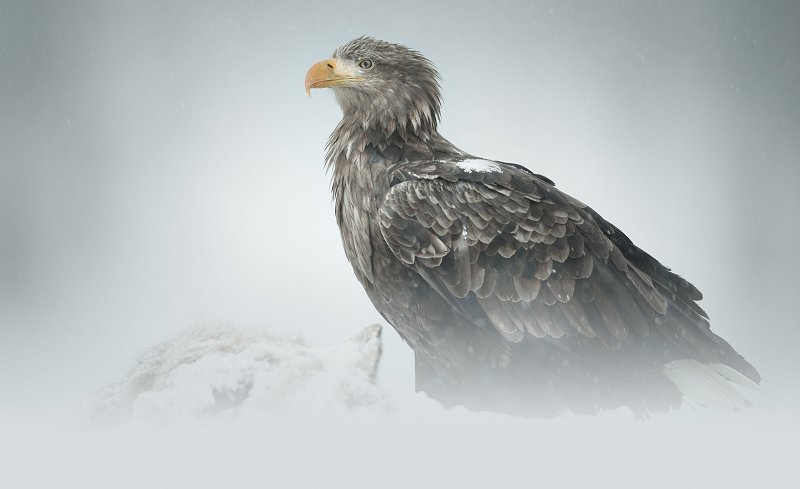 "Amazing", står der et sted i den slidte gæstebog i fugletårnet. Kommentaren henviser til en turists oplevelse med Nordens største vingefang – havørnen.
Af Marianne Riis (artiklen er opdateret 17. februar 2022)
Tilbage i 1980'erne var der ingen ynglende havørne i Danmark. I dag huser landet over 150 ynglepar. Europas største ørn har taget landet tilbage – og givet en tiltrængt succeshistorie til Danmarks natur!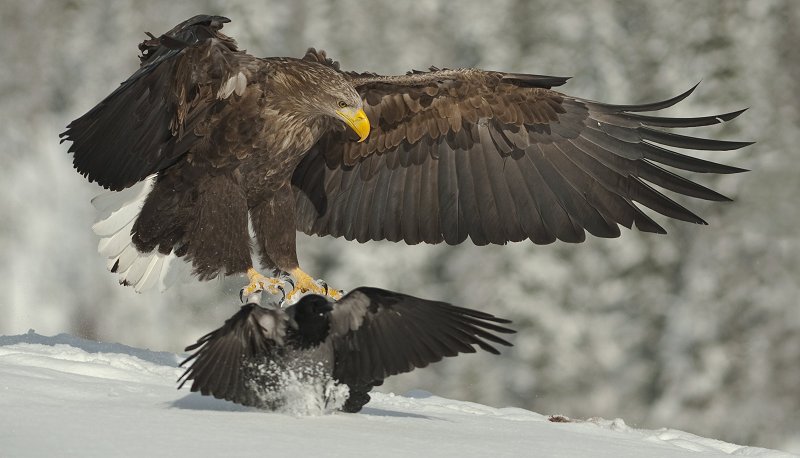 Danmark er blevet havørnens land
Kikkerten spejder ud over de frosne vinterenge. Derude på en pæl sidder Europas største ørn! Vi er ikke i Norge eller Skotland, men såmænd ved naturreservatet Vejlerne – nær Limfjorden i Nordvestjylland. Her er havørnen blevet et vanligt syn. Alligevel vækker fuglen opsigt blandt de mange fuglekiggere. "Amazing" har en engelsksproget turist noteret i fugletårnets gæstebog. Det forstår man når den store rovfugl går på vingerne og breder det imponerende vingefang ud, der kan strække sig til næsten 2,5 meter. Ikke uden grund har ornitologerne givet havørnen tilnavnet "den flyvende dør".
Overraskende genkomst og ynglesucces
To årtier skal man tilbage før havørnen vendte tilbage til Danmark som ynglefugl efter 100 års fravær. Mere præcist tilbage til 1996, hvor man registrerede det første ynglepar, der forsigtigt vendte tilbage til Danmark. Siden er det gået stærkt med ørnenes fremgang. Projekt Ørn i Dansk Ornitologisk Forening (DOF) har fulgt havørnene, rederne og ynglesuccesen. Da Projekt Ørn blev etableret i 1992 var ambitionerne store: I 2040 skulle Danmark have 75 havørnepar. I de senere år har virkeligheden næsten overgået fantasien. I 2021 blev der registreret ikke mindre end 152 ynglepar på dansk grund, hvilket igen er ny rekord – og en klar overgåelse af rekorden fra året før med 134 ynglepar i 2020.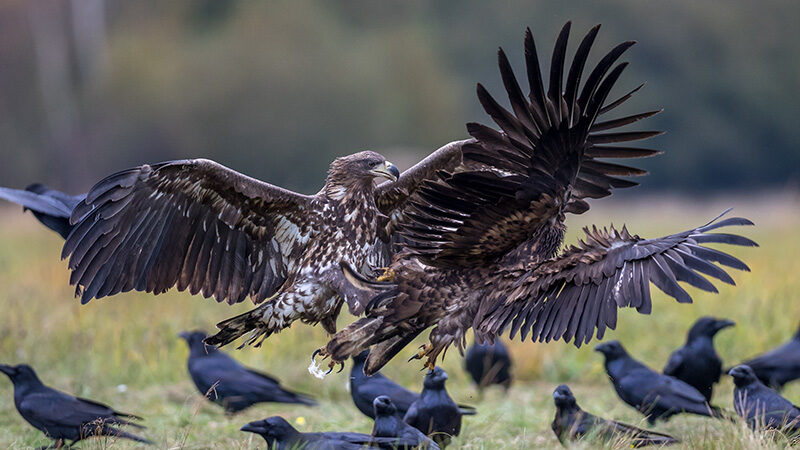 Danmark er et perfekt havørneland.
Med en kystlinje på ca. 8.000 kilometer og mange søer og fjorde er Danmark et godt sted for havørnene. Kerneområderne for havørnen er Sydøstdanmark, men stille og roligt indvandrer havørnen mod nord og vest. Vadehavet har nu også fået et ynglepar og i området omkring Thy og Vejlerne, har havørnepar nu flere gange bygget rede.
Havørnen er Europas største ørn. Et havørnepar får typisk to unger og i særlige tilfælde tre flyvefærdige unger pr. ynglesæson. Ynglesæsonen kan starte allerede i januar. Ørnereden genbruges gerne år efter år og kan blive enorm med en vægt på op til 500 kg.
Havørne lever gerne af ådsler, fisk og vandfugle (blishøns, ænder og gæs), men også skarver og mindre pattedyr.
Kilder: dof.dk, animalia.bio, dr.dk, Forsidefoto: Neil Burton, Dreamstime.com