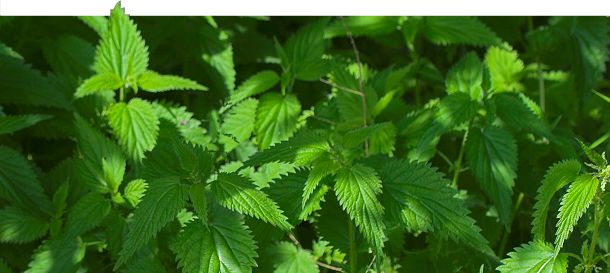 Brændenælden er velsmagende. Prøv selv!
Brændenælden er én af de vilde planter, alle danskere kender. Vi har to arter: Stor Nælde (Urtica dioica) og Liden Nælde (U. urens). Begge kan brænde ubehageligt og fra barns ben har vi lært os at vogte os for nælderne.
Hvis man brænder sig på en brændenælde, skal man huske at planten indeholder sin egen modgift. Tag brændenældens stængel og smør saften på huden der hvor den har ramt.
Annonce:
Lær af denne bog: Naturens spisekammer. Spændende mad fra Danmarks natur!
Sund og nærende.
Brændenælden indeholder både vitaminer og mineraler, hvilket gør den til en sund næringskilde. Også brændenældens rige indhold af jern gør, at den kan bruges til behandling af blodmangel.
Brændenælden har et højt indhold af flavonoider, som hovedsagligt findes i vegetabilske fødevarer. De menes at kunne bekæmpe betændelsestilstande og forebygge eller forsinke udviklingen af visse kræftformer.
Brændenældens indholdsstoffer udnyttet bedst i frisk tilstand. Hvis brændenælden tørres går en del af de aktive stoffer desværre tabt. Et alternativt er at fryse brændenælderne ned til senere brug.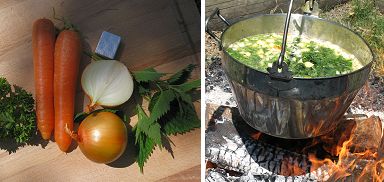 Ingredienser:
150 g. brændenælder
1 løg
2 bouillonterninger
lidt smør
1 liter vand
(evt. kartoffel og gulerødder)
Fremgangsmåde:
Brændenælderne skal skyldes og hakkes fint. Hvis der hældes kogende vand over dem, stopper de med at brænde. Løget finhakkes og svitses sammen med brændenælderne i smøret i en gryde. Bouillonterningerne og vandet hældes i gryden og suppen koges i ca. 10 min. Suppen serveres evt. med lidt persille og et flute.
Husk: Når du skal finde dine brændenælder bør du ikke bruge dem der står i vejkanten eller nær andre forureningskilder. De nye, unge nælder er de bedste.
Lav te af brændenælder
Det er muligt at købe tørret brændenælde i helsebutikker, men man kan også tørre dem selv. De bedste er de nye skud i foråret.
Et par skefulde tørret brændenælde overhældes med kogende vand og skal trække i ca. 5 -10 min. (alt efter hvor stærk man vil have sin te).
Man kan med fordel blande tørret brændenælde med andre urter.
Sabine Jensen/NaturGuide.dk
Kilder: www.dr.dk/DR2/Urt/Planter og www.bionordic.dk