I forbindelse med et skoleprojekt spørger en læser, hvornår bjørnen uddøde i Danmark?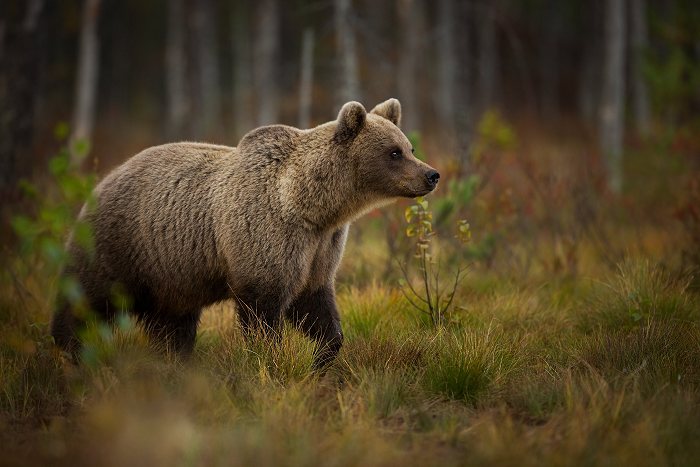 Bjørnen var udbredt i stenalderen, men yngste knoglefund går 6500 år tilbage.
Den brune bjørn lever som bekendt ikke vildt i Danmark, men i den ældre stenalder var den udbredt i det meste af Europa, herunder i Danmark.
Datidens mennesker jagede ligefrem bjørne, hvilket ikke kan have været uden risiko. Fund afslører rester af bjørneknogler på bopladser. I jægerstenalderen jagede man og spiste man altså ligefrem bjørne når lejligheden bød sig. Bjørnen var sikkert også eftertragtet på grund af skindet – sådan som det har været helt op i nyere tid.
Den brune bjørn indvandrede til det nuværende Danmark for ca. 13.500 år siden. Det varmere klima fik havene til at stige, og det hidtil store fastlandsområde, som omfattede det nuværende Danmark, blev omdannet til det ørige, der minder en del om nutidens. Det betød også at bjørnenes jagtområder blev reduceret samtidig med at muligheden for nyindvandring ude fra blev begrænset. Menneskets jagt på bjørne forsatte – og var med til at fordrive bjørnen fra det land vi i dag kender som det nuværende danmark.
De yngste, kendte knoglefund fra – formodentligt – "danske" bjørne stammer fra to bopladser på Djursland – fra bondestenalderens såkaldte grubekeramiske kultur for ca. 6500 år siden. Bjørne i Danmark har således ikke efterladt sig spor på dansk grund i 6500 år.
Kilde:blog.museum.odense.dk, Wikipedia.