"Gilpus & vildsvinet i Forevigtskoven" læst og vurderet af naturvejleder Niels Lisborg.
Bogen, der er udgivet som e-bog til læsning på pc'er, ipad og lignende, hander om Gilpus og hans tre venner Arvid, Villy og Kalle, der bor i en landsby, tæt ved en stor skov. Børnene elsker at gå på opdagelse i den hemmelighedsfulde skov, som de ved er helt speciel og magisk.
Bogen er levende og malerisk beskrevet med mange fortællende sætninger, der fint gør de manglende billeder overflødige.
"Bor der virkelig et vildsvin i Forevigtskoven?" sagde Kalle, "for det tror mine forældre ikke på, at der gør." Han viftede sit mørke halvlange pandehår væk fra øjnene".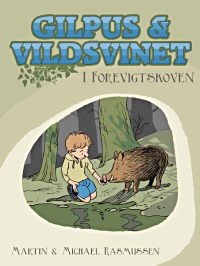 I bogens femte og sidste kapitel tager stilen en lidt overraskende drejning fra at være naturtro og realistisk – og næsten fagligt beskrivende, til at blive overnaturlig og eventyrlig da børnene i skoven pludselig møder et talende vildsvin! Set fra min litterære voksenverden – og som naturvejleder, havde jeg gerne set at bogens første stil, der både er god og levende, var ført til ende og børnene havde taget eventyret hjem uden undervejs at skifte kulisse til det overnaturlige (der dog er eventyrets ret). Set fra målgruppens synspunkt – børnene, tror jeg dog alligevel at bogen tager stikket hjem. Bogen skal nok blive vel modtaget hos de små – også selvom sønnike ved det afsluttende punktum vil spørge; "Far, vildsvin kan da ikke tale?" og hvortil jeg må svare "jo, min dreng – i eventyr kan de" – og stille tænke for mig selv at alle børn burde have adgang til opdagelse og leg i deres egen udgave af Forevigtskoven.
En fin fortælling, der er let at have med på farten – og bestemt er prisen værd.
Forfattere: Martin og Michael Rasmussen. Udgivet via Gopubli.sh 2014. 17 sider. Kan købes og downloades på internettet for ca. 20 kr.