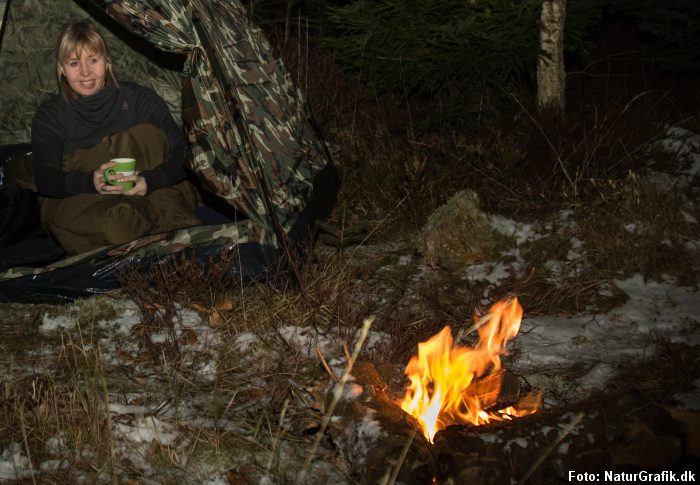 Hjemmelavede optændingshjælpere.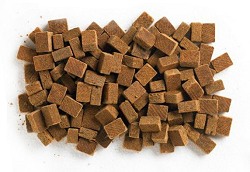 Det er ok at have tænkt tændbriketter ind i oppakningen. De små tændbriketter, der er lavet af træmasse er billige og vejer ingenting. Jeg tager derfor gerne 5-6 briketter med i en pose. De fylder næsten ingenting og er gode i nødstilfælde.
Du kan også selv lave dine egne optændingshjælpere hjemmefra ved hjælp af vatrondeller, der er dyppet i smeltet stearin – eller bruge lidt vat og vaseline. Se herunder hvordan.
Vat-rondeller dyppet i stearin.
Tænd et fyrfadslys på en underkop og vent til al stearinen er smeltet. Pust lyset ud og sug stearinen op med vattet. Brug evt. pincet eller næbtang til at holde vatrondellen så du ikke brænder dig på den varme stearin. Vatrondellen lægges derefter til tørre på et stykke bagepapir.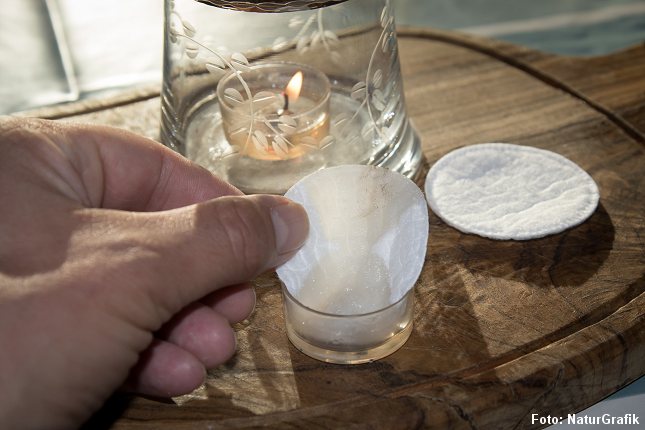 Kagelys i tændstikæske.
En anden simpel model er at tage en tom æske tændstikker og lægge 3-4 lagkagelys ned i æsken. Knæk dem af så de passer. Gerne sammen med lidt tørre træspåner (eller tændstikker). Ved brug åbnes æsken 1/3 med åbningen nedad, hvorpå et af lysenes væger tændes.
Birkebark
En simpel og helt naturlig model er at bruge strimler af birkebark. Det brænder godt og er let at antænde. Jeg har af og til snittet nogle barkstrimler af noget birkebrænde. De tørrede barkstrimler gemmer jeg i en lille pose, der er let at have med i rygsækken – og barken vejer absolut intet mærkbart. I en nødsituation kan man skrælle yderbarken af et frisk birketræ. Det brænder godt, men skamferer selvfølgelig træet, hvilket jeg foretrækker at undgå.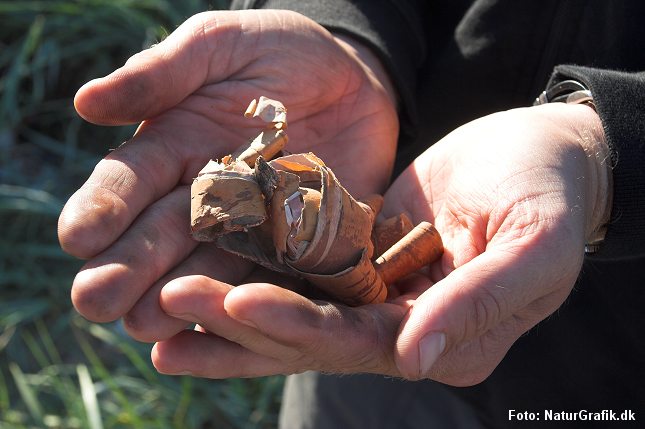 Vat og vaseline
En sidste god klassiker er vat og vaseline. Har du vaseline og lidt vat med i din oppakning, har du en god kombination til en stabil optændingshjælp. Læs mere her: Hvad kan vat og vaseline i vildmarken?
/MR