Læst og vurderet af Marianne Riis.
Den ultimative guide til dyreprutter.
Vidste du, at en bænkebider kan levere en af de længste "prutter" der kendes fra dyreriget eller at nogle sildearter kan kommunikere med deres artsfæller ved hjælp af høje pruttelyde? Det og mange andre sjove ting omkring dyreprutter kan du læse om i en ny bog, der hedder Kan den prutte? Bogen er skrevet af zoolog Dani Rabaiotti og økolog Nick Caruso.
De to forfattere fra henholdsvis England og USA, satte sig for, sammen med andre kollegaer, at undersøge nærmere, studiet af flatulens. Flatulens er den medicinske betegnelse for en "prut".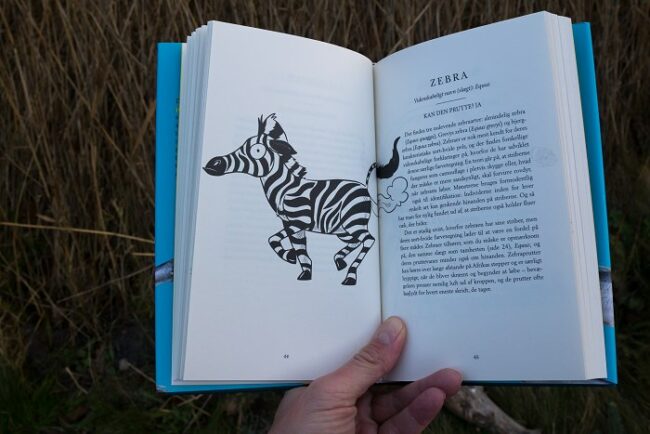 Bogen bringer bestemt et smil frem på læberne og den ligger nok også mere i underholdningsgenren end den videnskabelige genre. Det til trods er der både sjov og spændende viden at hente.
Bogen kan læses fra start til slut, men søger man viden om et bestemt dyr kan man sagtens springe rundt i bogen.
Annonce:
KØB BOGEN "KAN DEN PRUTTE?" PÅ SAXO – KUN KR. 119,95.
Bogen indeholder beskrivelser af 80 forskellige dyr. Hver dyr er kort beskrevet på en side, hvilket gør bogen både nem at læse samt nem at navigere i.
Det kunne have været både sjovt og spændende, hvis flere danske eller nordiske dyr havde være repræsenteret i guiden, men underholdning er det. Bogen kan også bane en ny sjov vej og viden for naturvejledere, lærere og andre formidlere når børn og unges opmærksomhed skal fanges.
Kan den prutte? Fup eller fakta om fis og fauna, 152 sider, Vejledende pris: 149,95 kr., Lindhardt og Ringhof, januar 2019.