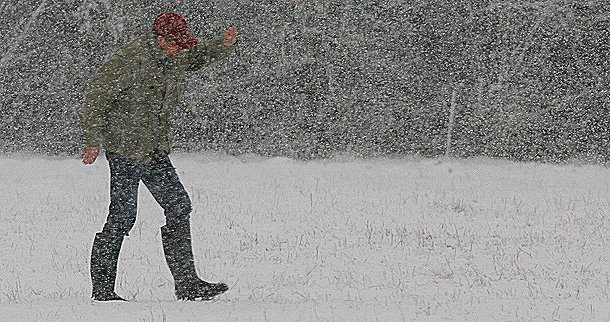 Sandsynligheden for at finde to identiske snefnug er meget lille.
Frosten har for alvor bidt sig fast og med frosten kommer iskrystallerne – de smukke isblomster som hver især er noget særligt. Vidste du, at sandsynligheden for at finde to identiske snefnug er meget lille? Iskrystaller varierer nemlig så meget at man længe var overbevist om at det var umuligt at finde to ens iskrystaller, men i 1988 lykkedes det dog amerikanske meteorologer at vise, at det kan lade sig gøre.
Iskrystaller ses ikke bare når der falder sne, men også som rimfrost på træer og planter. Det kan være et imponerende syn at stå op til en kold vintermorgen.
Sådan dannes sne.
Snefnug starter deres tilværelse i skyer, hvor vanddamp udsættes for lave temperaturer og bliver til iskrystaller. Der dannes iskrystaller i mange forskellige former, der igen sætter sig sammen i forskellige fantastiske kombinationer. På et tidspunkt bliver krystallerne så tunge at de falder mod jorden.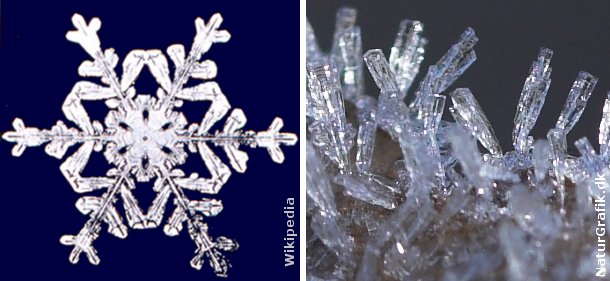 En varieret verden af iskrystaller
Formen på krystallerne bestemmes af luftens temperatur- og fugtighedsforhold. Under faldet fra skyen møder iskrystallen skiftende temperaturer og vandindhold i den omgivende luft, hvilket den tilpasser sig i form af fordampning eller tilvækst.
Alle de faktorer samt at hvert krystal består af utrolig mange vandmolekyler som ikke alle er ens, (et vandmolekyle består af et iltatom og to brintatomer, og både ilt og brint optræder i varianter eller isotoper) gør, at chancen for at finde to identiske krystaller i praksis er nul. De kan dog sagtens ligne hinanden.
Hvorfor er iskrystaller stjerneformet?
Vandmolekylerne i iskrystaller placerer sig i sekskantede prismer. Stjerneformen opstår ved at en krystal som vokser, opbruger vandmolekylerne lige omkring sig. Hjørnerne på krystallen stikker altid længst ud og får dermed større tilgang af nye vandmolekyler end resten af krystallen. Hjørnerne vokser derfor hurtigere, og danner efterhånden krystallens arme – og derved dannes stjernen. Selvom det klassiske snefnug er fladt og stjerneformet, findes der dog også mange iskrystaller, som er formet som lange, sekskantede isnåle. Eksempelvis bliver isnåle dannet ved -5 grader C i skyen og snestjerner dannes ved -15 grader C.
10 mm nedbør svarer til 10 cm sne.
nyfalden sne fylder ca. 10 gange så meget som den tilsvarende mængde smeltet sne. 1 mm nedbør vil altså, hvis den falder som sne, give ca. 1 cm sne.
/MR
Kilder: DMI, Ingeniøren, Wikipedia, illvid.dk.