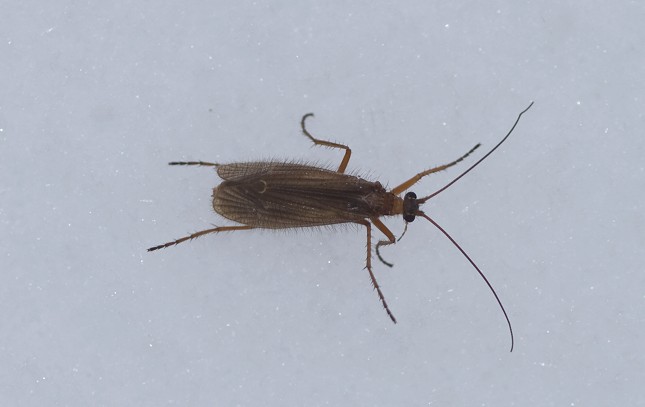 Hvad er det for aktive vinterinsekter oven på sneen?
Svaret er, trods navnet, vårfluer!
En læser spørger hvad det er for nogle fluelignende dyr som han har set i sneen? "Oven på den kolde sne kravlede flere små fluelignende dyr rundt", skriver Jørgen til NaturGuide.dk. "Hvad er det for et insekt, der trodser vinteren og kravler rundt på den kolde is og sne?"
Det er såmænd – trods navnet, vårfluer. Netop denne art af vårfluer med det videnskabelige navn Chaetopteryx villosa kan optræde på sne og is langt hen på vinteren – endda helt hen i januar. Insekterne kan endda parre sig i perioden! Parringen er en af de længstevarende i insektverdenen og kan tage op til 12 dage. Med andre ord en kold fornøjelse, hvis det foregår på is og sne!
De voksne insekter flyver normalt fra efteråret til ind i december og i den relative lange periode bliver insekterne udsat for lidt af hvert vejrmæssigt. Selvom æglægningen normalt starter i oktober har man fundet frisklagte æg helt hen i januar.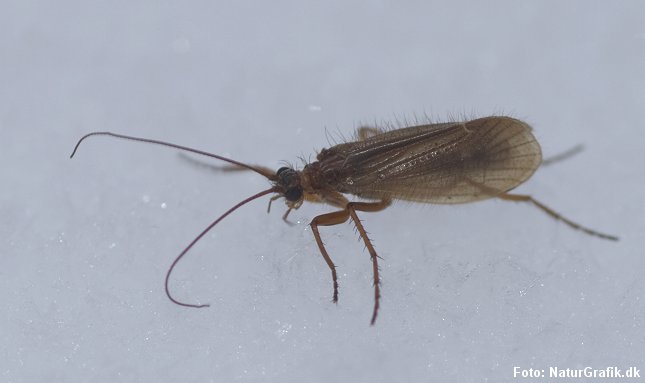 Chaetopteryx villosa er udbredt i det meste af Europa, hvor den er tilknyttet vandløb. Vårfluelarven lever og udvikler sig nede i vandet.
/NL
Kilder: Department of Experimental Zoology and Evolutionary Biology, University of Łódź, Banacha, Polen, mapress.com/zoosymposia.