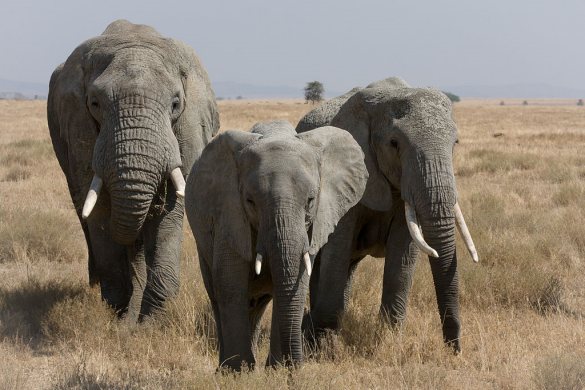 Krybskytter skyder flere elefanter i Afrika end der fødes!
35.000 elefanter skydes årligt!
En ny undersøgelse som er offentliggjort i "the Proceedings of the National Academy of Sciences viser, at der er sket et vendepunkt i antallet af afrikanske elefanter. Undersøgelsen viser, at der i dag skydes flere elefanter af krybskytter end der fødes nye elefanter. Man skønner, at der på hele det afrikanske kontinent nu skydes omkring 35.000 elefanter om året. I tidsrummet fra 2010 og 2013 har forskerne fundet, at Afrika i gennemsnit har mistet 7 % af elefantbestanden. Til sammenligning øges elefantbestanden kun med ca. 5 % om året.
Det er et alarmerende antal og forskerne advarer nu om, at hvis tendensen fortsætter så vil elefanterne i Afrika være udryddet om 100 år.
Efterspørgslen på elfenben er steget voldsomt de seneste år og den kommer primært fra Asien. Et kilo elfenben kan nu sælges for tusindvis af dollars.
Elefantbestanden i Centralafrika reduceret med 60%.
Problemet er dog ikke jævnt fordelt over det afrikanske kontinent. Det ser værst ud i Centralafrika. Her skønner man at, i løbet af det sidste årti er antallet af elefanter faldet med 60 %.
Da det primært er de største og ældste elefanter som må lade livet for krybskytterne giver det ikke kun problemer med et fald i antal individer, men det giver også store problemer for de tilbageværende elefanter. Når man fjerner de største avlshanner og -hunner, får man forældreløse unger samt man ødelægger de nære og tætte samfund som elefanterne lever i.
Øget indsats nødvendig!
I følge John Scanlon fra CITES – den internationale konvention til kontrol af handlen (over landegrænser) med vilde dyr og planter, er der brug for hurtig handling. Ifølge Scanlon skal der mere fokus på den ulovlige handel med elfenben blandt andet ved at mindske efterspørgslen. Levevilkårene for de lokale som lever med elefanterne skal også forbedres og derudover bør man slå hårdere ned på krybskytterne.
/MR
Kilde: BBC news