En lysende, klar "stjerne" ses i december på den sydlige himmel. Det er planeten Venus – Jordens søsterplanet.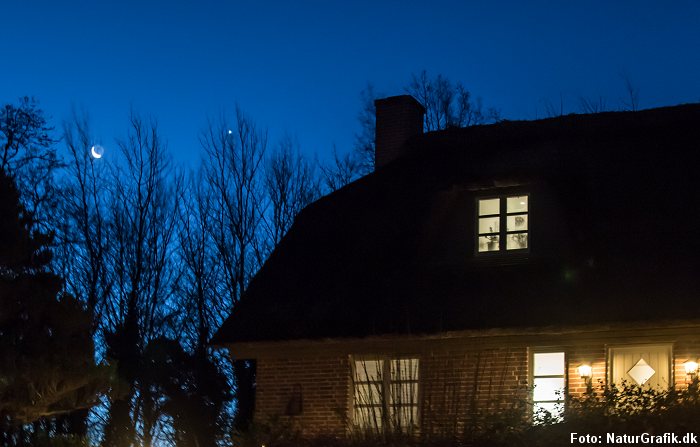 Den er næsten ikke til at undgå at se da den står som den klareste "stjerne" af alle. Det er dog faktisk ikke en stjerne, men planeten Venus.
Venus er nummer to planet i vores solsystem, talt fra Solen. Venus omtales ofte som Jordens søsterplanet, idet Jorden og Venus har omtrent samme størrelse og masse.
I morgentimerne kan også ses planeten Jupiter, der dog står lavere over horisonten.
Du kan følge planeterne på din computer ved at installere det gratis program Stellarum som vi tidligere har anmeldt på NaturGuide.dk.
En klar julestjerne.
I løbet af december stiger Venus' lysstyrke. Samtidig bliver højden over horisonten større for hver aften, fordi planeten bevæger sig højere op og derudover øger vinkelafstanden til Solen. Ved juletid går planeten først ned næsten 4 timer efter Solen. Den kan derfor ses som en klar julestjerne gennem alle højtidsdagene.
Også i januar kan Venus ses på himlen lige efter solnedgang.
Venus er opkaldt efter den romerske kærlighedsgudinde, hvilket måske ikke er så velvalgt, da forholdene på Venus's overflade nok er det tætteste man kommer helvedet. Planetens overfladetemperatur er på ca. 480 grader, men selvom planeten er fjendtlig for liv i dag har vilkårene måske været anderledes i en fjern fortid?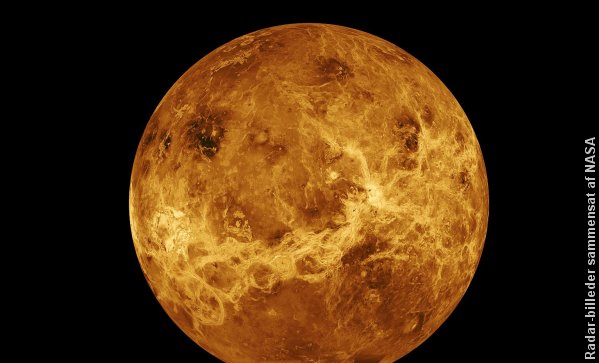 Fortidens Venus lignede måske Jorden.
Da Solen var yngre, lyste den ikke så kraftigt, og temperaturerne på Venus mindede muligvis om Jordens temperaturer i dag.
Nogle forskere mener, at der kan have været oceaner på Venus engang. I det hele taget mindede Venus i sin fjerne, fjerne fortid mere om Jorden, så måske var der også liv på planeten dengang?
Nogle af de ældste klipper på Jorden er 3,8 milliarder år gamle, og i dem har vi fundet spor af liv. Men for ca. ½ milliard år siden gik mange af Venus' vulkaner pludselig i udbrud samtidigt. Flydende lava dækkede planetens overflade og eroderede derved også alle spor af fortiden.
Som Jorden har Venus også en atmosfære, men denne er noget mere ugæstfri end Jordens. Den består mest af kuldioxid, CO2, som giver anledning til en kraftig drivhuseffekt på Venus.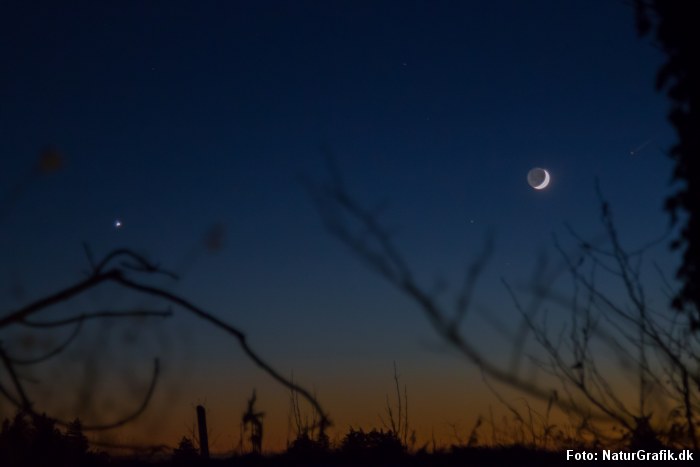 Venus nydes med andre ord bedst fra Jorden – som et smukt, klart lys på decembers himmel.
/NL
Kilder: rummet.dk, wikipedia.