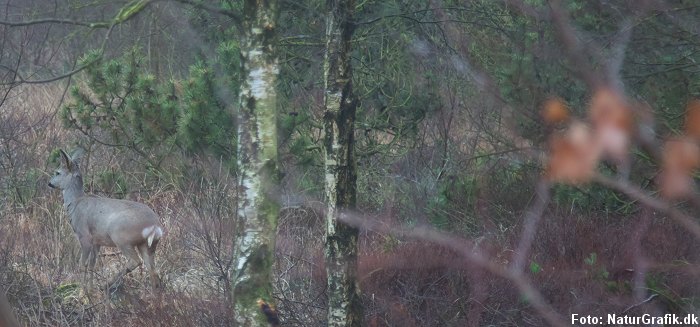 Se mine hvide rumpe! Rådyret bruger sit bagparti – spejlet, til at signalere fare og til at "lyse" for artfæller under flugten.
"Se dér", hvisker jeg lavmælt til mine to drenge. "Det er to rådyr!" Hvorhenne?, spørger Peter på 5 år. Hverken han eller lillebror kan få øje på dyrene, selvom de kun er ca. 60 meter fra os. Deres alder til trods har de set råvildt mange gange, men her kniber det med at få øje på dyrene i den vinterbrune skovkant.
Først står de to to rådyr bomstille og følger os med øjne og ører, men så bliver det alligevel for meget og begge dyr springer til skovs. I det at dyrene tager flugten lader de deres hvide rumper lyse op i landskabet, så også drengene nu kan se dem.
Spejlet viser vej.
Pelsens omkring rådyrets hale er helt hvidt og kaldes for spejlet i jægerkredse. Når rådyret bliver skræmt og flygter, spreder det de lange hvide hår på spejlet, så det bliver omtrent dobbelt så stort. Det hvide "spejl" fungerer dels som et advarselssignal til andre rådyr, der fortæller at der er fare på færde – og gør det lettere for andre rådyr at følge den erfarne gammel-rå – eller for små rålam at følge efter deres mor i flugten.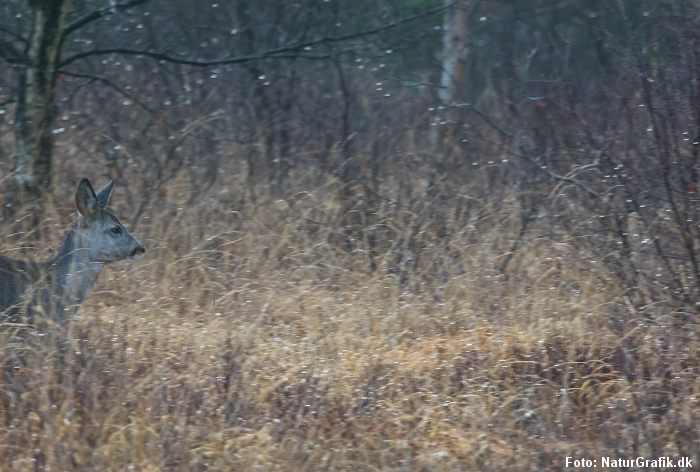 Rødbrun om sommeren og grå om vinteren.
Rådyret er med en skulderhøjde på ca. 70 cm den mindste hjorteart i Danmark, men også den mest almindelige hjorteart. Om sommeren er rådyrets pels smuk rødbrun og om vinteren bliver den rødbrune sommerpels udskiftet med en tættere gråbrun vinterpels. Rådyrets skift af pels er ikke blot en tilpasning af temperatur- og vejrforhold. Pelsens farve giver i mange tilfælde også råvildtet en bedre kamuflage, der passer til årstiden.
/NL