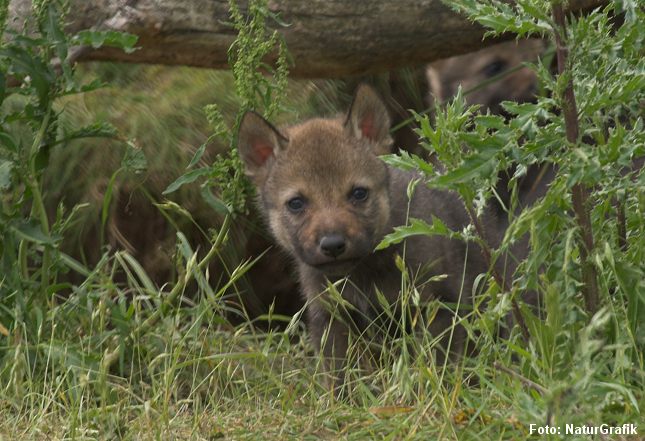 Familie mødte tre ulve på aftentur i midtjysk skovområde. Den ene sandsynligvis en stor hvalp.
Familien Daugaard Jepsen har som nogle af de første sandsynligvis mødt danske ulveunger på en aftentur i et midtjysk skovområde.
Mor og datter var på tur med deres labrador – og undrede sig over at hunden i den seneste tid havde vist modvilje mod at gå med ind i naturområdet.
En stor, lys ulv dukkede frem omkring solnedgang.
Ellen Daugaard Jepsen oplyser til til DR Nyheder, at omkring solnedgang dukkede en ulv op. Hun beskriver ulven som "stor, helt lys, næsten hvid og super, superflot". Kort efter forsvandt ulven ind i skoven.
Sandsynligvis en ulvehvalp blandt de tre ulve.
Familien blev helt paf og ærgerlige over at de ikke nåede at fotografere ulven, men på vej væk vendte de to turgængere sig igen – og så stod der to andre ulve! "Den ene mindre end den anden", beretter Ellen Daugaard Jepsen, der er overbevist om at der derfor er tale om en hvalp. Denne gang fik de fotograferet ulvene.
Billederne er sendt ind til Naturhistorisk Museum i Aarhus, hvor seniorforsker Thomas Secher Jensen vurderer billederne som "den bedste dokumentation for, at der er født ulvehvalpe i Danmark."
Dna-analyser på vej.
Efterfølgende har Ellen Daugaard Jepsen fundet "masser af spor og ekskrementer, både store og små" som hun ikke er i tvivl om, stammer fra en ulv og muligvis ulveunger. Institut for Bioscience ved Aarhus Universitet vil nu dna-analysere ulveekskrementerne.
Billederne kan ses på facebook-siden Projekt Dansk Ulv.
/NL
Kilde: Dr.dk