Med Jon i Vildmarken – outdoor tips & tricks.

Læst af naturvejleder Niels Lisborg.
Som det gør sig gældende for en del danske tv-underholdningsprogrammer skabes trenden i det store udland. Således også for programmet "Alene i vildmarken". Danskerne tog rigtig godt imod den dansk/norske version og programmet blev en stor seersucces – endda i sådan en grad af at DR planlægger at lave en ny programrække, der flyttes over på den primære kanal DR1.
Vinderen af den første programserie blev Jon Lindberg og det er der kommet en bog ud af, sammenfattet af vennen og journalisten Kasper Tveden. Og faktisk en ganske god en af slagsen.
"Med Jon i vildmarken" – gives outdoor-tips (som det vel nu hedder på dansk) og -tricks.
Bogen er skrevet i et let forståeligt sprog og opdelt i hovedafsnit, hvor læseren introduceres til alt fra grej- og udstyr til navigation og tilberedning af mad i naturen.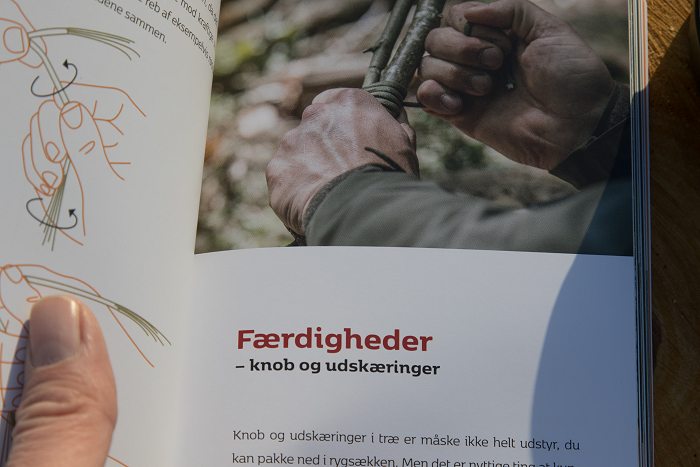 Plankning.
Selv for erfarne friluftsfolk er der inspiration at hente i bogen. Selv blev jeg inspireret til plankning af kødet som Jon angiver som sin yndlingsmetode til primitiv mad. Kort fortalt kløves et større brændestykke, hvor kødet slås op på fladen, der stilles tæt ved bålet. Det må jeg prøve næste gang derude…
Spiselige planter.
Bogen indeholder et afsnit med et udvalg af spændende, spiselige planter og urter i naturen som man selv kan finde. Netop dette område er blevet meget populært i de senere år – og naturens vilde skattekammer har været med til at relancere det nordiske køkken.
I bogen er den vilde pastinak også medtaget på spisesedlen. Den vil jeg nok personligt gå pænt uden om. I tekstbeskrivelsen ville det her have været passende at nævne et par linjer om Vild pastinaks giftige saft, der i kombination med sollys kan give vabler og sår på huden.
Flot illustreret.
Bogen er flot sat op med både fotos og illustrationer. Her bør fotografen Ole Steen fremhæves. Der er tænkt over billederne, der er yderst inspirerende og med til at løfte bogen.
I afsnittet om spiselige planter falder billedkvaliteten dog – og nogle af skuddene ligner ikke en fotografs arbejde (skovsyren er uskarp og mælkebøtten er gulgrøn) – og det er synd.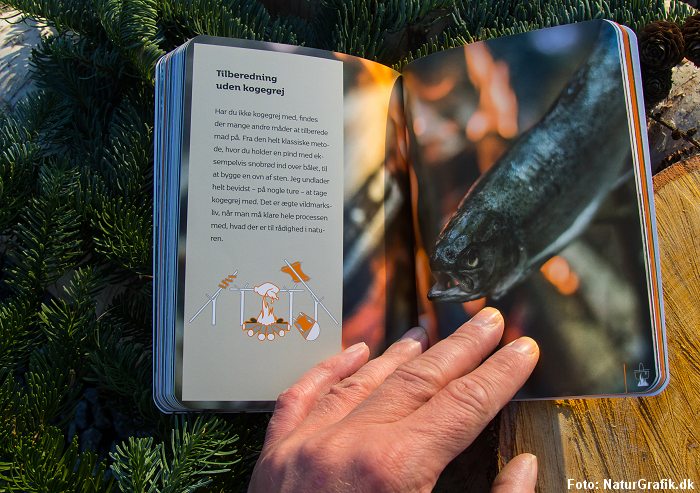 Inspirerende at læse.
Der er en stigende interesse for friluftsliv og "prøve sig selv af i naturen" og her vil bogen "Med Jon i vildmarken" komme rigtig mange til gode. Bogen samler en masse brugbar viden i en kompakt bogform – og det har været en bog, der har været inspirerende og fornøjelig at læse. Bogen lever til fulde op til sin undertitel "Outdoor tips & tricks". Er du bidt af friluftslivet og evnen til at klare dig selv i naturen, så bør du have denne bog i din reol (eller rygsæk).
Bogen kan bl.a. købes online hos Saxo: Med Jon i vildmarken.
Med Jon i vildmarken af Jon Lindberg og Kasper Tveden. Turbine Forlag 2017. 180 sider. Vejledende pris 199,95 kr.