I begyndelsen af 2022 udkom tv-vært og forfatter Mikael Kamper med en ny bog: Gå godt – en bog om trivsel og eksistens og gangarter. Mikael Kamper indleder bogen med at fortælle at "min plan er at smitte dig med glæden ved at gå" Jeg kan allerede indledningsvis sige at det kommer forfatteren rigtig godt fra.
Læst og vurderet af Niels Dahlin Lisborg
Bogen "Gå godt" er skrevet levende og fortællende i et forståeligt sprog. Det er den første bog som jeg har læst, der knytter bånd mellem de tidligste mennesker – og betydningen af det at gå og vandre – og vores nutidige liv, hvor det at gå beviseligt har stor betydning for både krop og sjæl. Mikael Kamber fremhæver en række rammende paradokser i bogen: "Aldrig har vi været så mobile og aldrig siddet så stille".
Brikkerne falder på plads…
Vi har alle længe vidst, at det er sundt at bevæge sig, få motion etc., men i bogen falder brikkerne på plads. Efter at have læst bogen forstår jeg nu baggrunden for at vores krop, som organisme, får det bedre af at gå – og hvorfor bevægelse rent fysisk også kan føre til bedre læring og evne til at forstå og huske.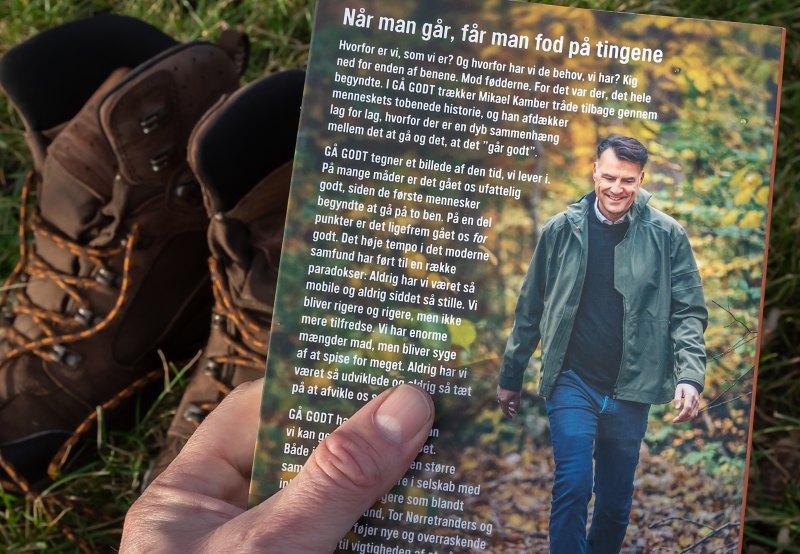 Historien omkring menneskets udvikling er godt og billedligt beskrevet og jeg kunne fange selv mine børns opmærksomhed (7 og 9 år) da jeg læste et par sider for dem.
Undervejs i bogen interviewer Mikael Kamper en række spændende personer, der har hver deres tilgang, baggrund og historie for vigtigheden af at gå. Nogle interviews, der giver en stor bredde, men en samlende helhed til bogens titel.
Med på tur langs Sjællands kyst
I bogens sidste del følger vi forfatterens vandretur i en jeg-fortælling langs den sjællandske kyst, hvor forfatterens fortælling, egne tanker og filosofering fylder viden på hylderne, næsten uden at man opdager det. Igen kan jeg godt lide Kampers billedlige sprog: "rygsækken giver et konstant kram".

I bogen kommer vi forbi begreber som positiv psykologi og gå-meditation og det at være tilstede – og mærke sig selv og omgivelserne.
Efter at have læse bogen er jeg ikke i tvivl – jeg skal ud at gå noget mere "og massere jorden under mine fødder".
Bogen kan med fordel købes på Tales.dk (annoncelink til tilbud), hvor den er set til 187 kr.
"Gå godt. En bog om trivsel, eksistens og gangarter" af Mikael Kamper. Politikens Forlag 2022. 272 sider, paperback. Vejl. pris: kr. 250,-