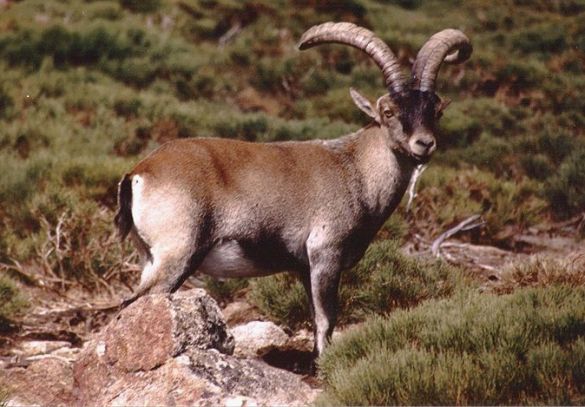 Genskabelse af uddøde arter via DNA og genteknologi.
SPANIEN: Kloning af uddøde arter er ikke længere science fiktion. I hvert fald gør forskere store fremskridt i at beherske teknologien, der gør det muligt at bringe en art tilbage.
Det er i realiteten allerede sket. Tilbage i 1999 blev den sidste levende pyrenæiske ibex – en art af bjerggeder med det videnskabelige navn Capra pyrenaica pyrenaica, indfanget, hvor forskere tog vævsprøver af bjergeden, der blev døbt Celia.
Allerede samme år kunne arten erklæres for uddød da Celia blev ramt af et træ, der væltede ned over hende i Odesa Nationalpark (Parque Nacional de Ordesa y Monte Perdido) i Spanien.
En forskergruppe ledet af José Folch forsøgte efterfølgende at indsætte cellekerner fra Celia i gedeæg som var tømt for egen DNA, hvorefter ægget blev indsat i geder, der skulle fungere som surrogatmødre.
Efter 44 forsøg lykkedes det i juli 2003, fire år efter Celias død, at genføde en pyrenæisk bjergged ved hjælp af kejsersnit. Det nyfødte gedekid havde dog vejrtrækningsproblemer og syv minutter efter fødslen døde kiddet og arten blev nok engang erklæret for uddød.
Nyt forsøg
Nu vil forskere gøre et nyt forsøg på at fremklone arten Capra pyrenaica pyrenaica.
Forskere fra CITA (Centre for Research and Food Technology of Aragon) i Zaragoza, Spanien er begyndt at se på levedygtigheden af Celias nedfrosne celler.
"Vi har indtil videre ikke iværksat en plan for at få bestanden tilbage. I første omgang må vi se om Celias celler stadig er i live, siger Alberto Fernandez-Arias, CITA til engelske BBC, og tilføjer at der også er planer om at klone embryoer (fostre i tidligt udviklingsstadium, red) , for så at indsætte dem i hun-geder.
"Det kan godt være at vi ender med nogle levende hunkønseksemplarer af den pyrenæiske bjergged. I så fald må vi drøfte hvordan vi eventuelt kan genoprette bestanden", siger Alberto Fernandez-Arias, CITA.
Kilde: Erlend Lånke Solbu/Forskning.no