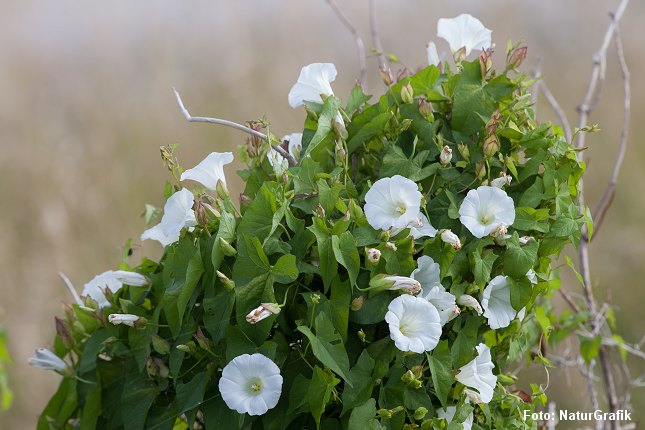 Kravler som en lian op ad de nærmeste naboplanter.
De findes i flere udgaver – snerlerne. Fælles for to af de prægtigste, hjemlige arter er dog at de i stor udstrækning regnes for ukrudt og gerne bekæmpes i landskabet med både hakke, spade og kemi!
Den meget almindelige gærdesnerle (Convolvulus sepium/Calystegia sepium) og ligeså almindelige agersnerle (Convolvulus arvensis) ynder at slynge sig som en lian op ad andre vækster og kan klatre flere meter op ad træer og buske, hække og stakitter. Hvis de altså får muligheden – og kan næsten helt overdække sine omgivelser i et kvælende slyngtag.
Rodnet, der kan nå to meter ned i jorden.
Planten evner at sprede sine rødder flere meter ned i jorden og kan tilmed slå nye rødder hvor nedlæggende stængler vedvarende berører jorden. Snerlens evne til spredning og overlevelse gør den til en hårdfør ukrudt og den er ofte uønsket i afgrøder, juletræsbeplantninger og haver. Tilmed er den svær at bekæmpe!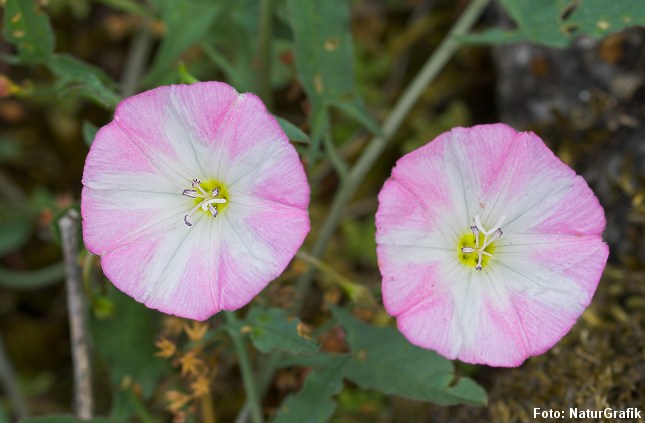 Et næsten tropeagtigt indslag i den danske natur.
Til gengæld for sin påtrængenhed og overskyggende vækst leverer snerlerne nogle af de smukkeste blomster vores vilde natur kan tilbyde. Et næsten tropeagtigt indslag i den danske flora. Gærdesnerlen oftest ren hvid og agersnerlen gerne i sart lyserødt, men begge arter leverer store, prægtige, tragtformede blomster.
Blomsterne åbner sig kun i godt vejr når solen skinner og hvor der er mange insekter i luften til at bestøve Danmarks smukkeste ukrudt.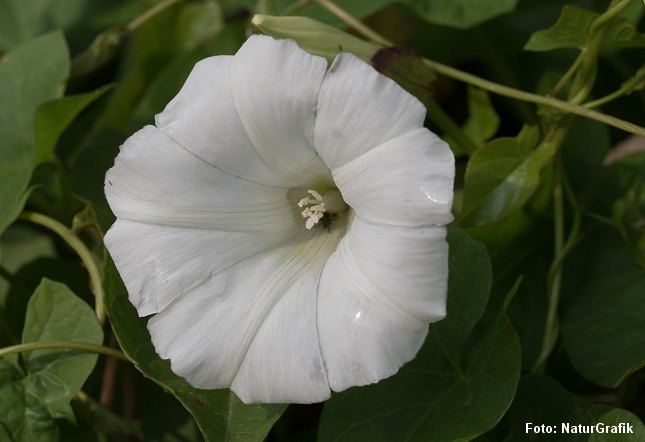 Lader sig ikke tæmme i en pyntevase.
Lader man sig lokke af de kønne blomster er successen kun kortvarig. Ligesom valmuerne lader snerlen sig ikke tæmme i en indendørs vase. Prøver man alligevel kvitterer den ved at smide kronbladene.
Både agersnerle og gærdesnerle blomstrer fra juni til september.
/MR
Kilder: Naturhistorisk Museum, Wikipedia.