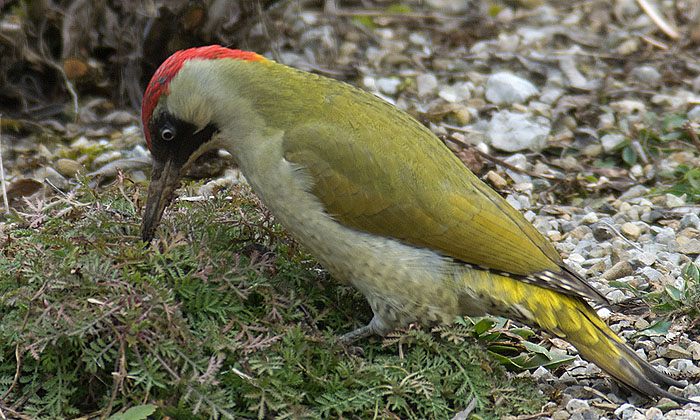 Den farvestrålende grønspætte er lidt af en specialist, hvor alt fra hale, næb, fødder og tunge har særlige funktioner. Her kan du blive lidt klogere på den særprægede fugl.
2000 myrer om dagen – og en 23 cm lang tunge.
En voksen grønspætte (Picus viridis) har brug for det der svarer til omkring 2000 myrer om dagen. Det kræver lidt af en myreekspert og det er lige hvad grønspætten er. Med et tungeorgan på 23 cm, hvoraf de 10 cm kan strækkes ud af næbbet, er det ingen sag. Spætten hakker hul i myretuen og stikker sin lange, klistrede tunge ind i tuen. Når tungen trækkes tilbage kan både myrer, pupper og æg hænge fast. Om vinteren når der er sne kan grønspætten grave sig igennem sneen for at komme ned til myretuerne. Grønspætter er standfugle og opholder sig oftest i nærheden af ynglestedet hele året. Det gør at de kender området godt og antageligt ved hvor de gode myretuer er.
Solidt, voksende næb.
Der er flere årsager til, at spætter kan hakke og tromme så meget som de gør. For det første er spættens næb udstyret med et stærkt hornlag. Næbbets hornlag vokser ud i takt med, at næbspidsen slides. Det er ikke ualmindeligt, at en spætte slider det der svarer til et næb op om året. Spætten har desuden en helt speciel kraniebygning, der betyder at den kan tromme med flere tusinde næbhak om dagen uden at få hjernerystelse. Blandt andet kan kraniet forskydes i forhold til de knogler der sidder mellem næbbet og kraniet så det nærmest virker som en fjeder. Grønspætten trommer dog mindre aktivt end de øvrige, danske spætter.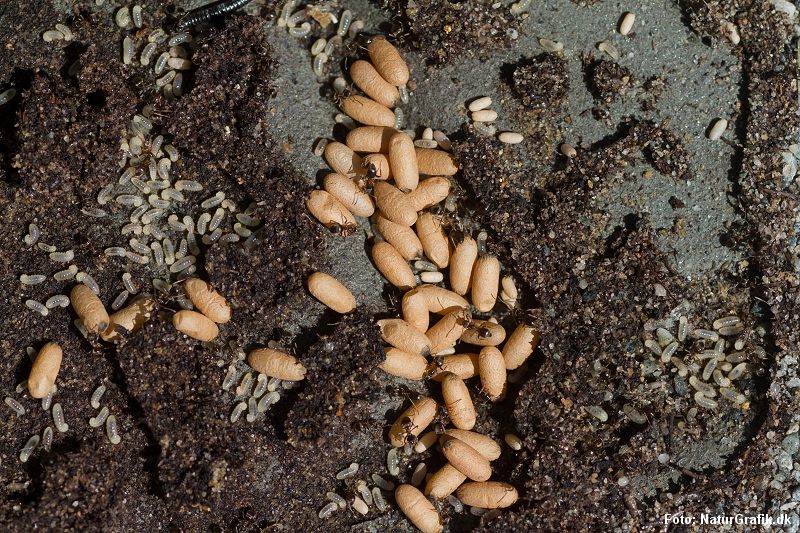 Fakta om grønspætten
Vidste du;
At grønspætter lever i faste parforhold.
At der er blevet talt 18.400 spåner fra bare et redehul lavet af et grønspættepar.
At grønspættens hale fungere som støttepind når den sidder på lodrette stammer. De stive halefjer både støtter og afhjælper af fuglen ikke falder baglæns når den hopper på stammen.
At spætten har meget fleksible tæer. To vender fremad og to bagud, men når den klatrer kan de bagudvendte drejes mere eller mindre fremad efter behov.
At grønspætteparret oftest udmejsler et nyt redehul hvert år, men der er eksempler på, at et par har anvendt samme hul i op til 10 år.
At spætten kaldes for "skovens tømmermand" på grund af dens hakken og hamren.
At det siges, at grønspætten ikke kan lide at flyve over vand og det er årsagen til, at der kun er få grønspætter på Fyn og Sjælland.
Hannen og hunnen er næsten ens. Dog ses hannens gule overgump i flugten og så har hannen en rød skægstribe.
Grønspætten får et kuld unger om året. De 5-7 æg er skinnende hvide.
Ud over myrer består menuen også af larver, biller, sommerfugle, humlebier og bær og frugt.
Grønspætten er på størrelse med en allike.
Den kan blive op til 15 år gammel.
Grønspætten foretrækker at yngle i blandingskov gerne med græslysninger.
MR/
Kilder: Fuglene i Danmark af Hans Meltofte og Jon Fjeldså, naturporten.dk, fugleognatur.dk.