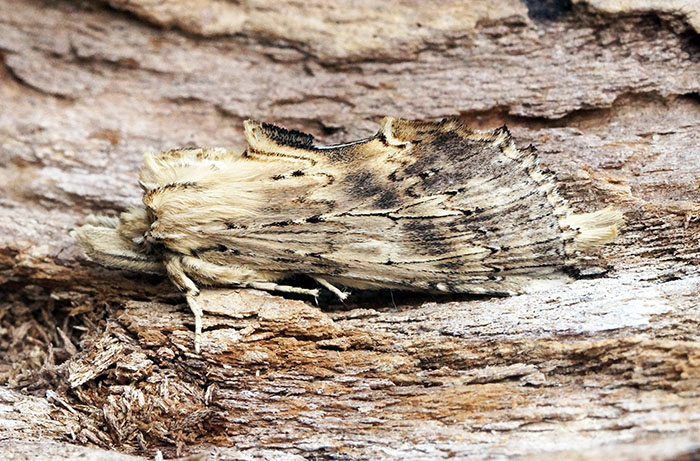 Den næste i temarækken af dyrearter med sjove, lange eller underlige navne er Palpetandspinderen.
Træ-camouflage.
Palpetandspinderen (Pterostoma palpina) er en natsværmer i tandspinderfamilien. Tandspinderfamilien omfatter omkring 30 forskellige arter, hvoraf mange ville være egnet til at være repræsenteret i dette tema. Palpetandspinderen beskytter sig på samme måde som en anden tandspinder, nemlig Måneplet (Phalera bucephala), ved at ligne små stykker træ. En camouflage den mestrer godt, særligt i hvilestilling, da det ved første øjekast kan være svært at få øje på den ude i naturen.
Tvetandet fjermund.
Palpetandspinderen kaldes også for tvetandet fjermund eller blot for palpespinder. Natsværmeren har, som en del andre i samme familie, et tandformet fremspring på forvingens bagkant. Når sommerfuglen sidder i hvilestilling rager fremspringet op, hvilket har givet familien det danske navn tandspindere.
Bagerst har palpetandspinderen ekstra lange hår eller flapper som bruges til duftspredning. Tandspinderen har et høreorgan på hver side forkroppen. De bruges til at lytte efter dens fjender som blandt andet er flagermus.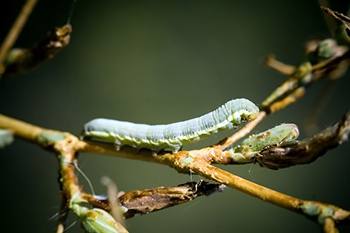 Fakta om Palpetandspinderen.
Den har et vingefang på 35-50 mm.
Larven som er omkring 40mm foretrækker at være på planter som pil og poppel.
Den ses fra maj til august i fugtige skove og moser, men kan også findes i parker og haver med pil.
Der er to generationer om året.
Den er almindelig i Danmark.
Tandspinderfamilien rummer også andre sjove arter, hvor larverne har givet dem navne som eksempelvis Gaffelhale, Kamelspinder, Dromedarspinder og skovdjævel.
Læs også om den smukke og hurtige sekspunktet kvikløber.
Se også Spiral-langhornsspringhalen, der laver satomortaler.
MR/
Kilde: vestrehus.dk, fugleognatur.dk, Insekter i Danmark af Morten D.D. Hansen m.fl., Motths of Great Britain and Ireland by Martin Townsend and Paul Waring.
Featured billede: En camoufleret Palpetandspinder. Foto: Patrick Clement
Tema: I de kommende tid sætter vi fokus på nogle af de dyrearter i den danske natur som har sjove, lange eller blot underlige artsnavne.