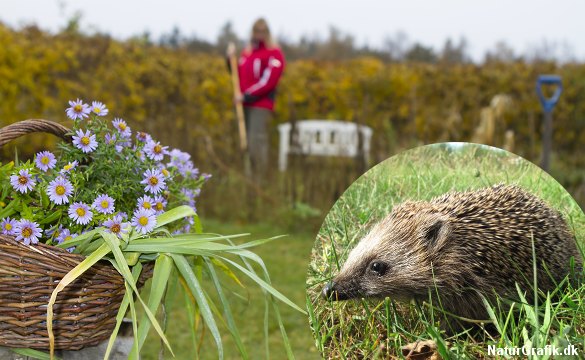 "Hvad er det for et dyr, der skider på min terrasse"?


En pindsvinevenlig vinterhave af Marianne Riis, VisitNature.
I NaturGuidens postbesvarelser faldt jeg over et læserspørgsmål om hvad for et dyr, der "skider på min terrasse". Lortens ejermand blev afsløret. Det var pindsvinet, der var synderen. Jeg kan til en vis grad genkende problematikken. I denne tid om efteråret afslører små, kulsorte efterladenskaber foran vores hoveddør det samme. En pindsvinefamilie tiltrækkes af den kattemad (tørkost) som jeg hver aften stiller ud til katten. Heldigvis er pindsvinelort ret uskadeligt i sammenligning med mange andre pattedyrs efterladenskaber. Konsistensen er nemlig ret fast og derfor let at feje væk.
Der er en særlig grund til at pindsvinene kommer helt tæt på nu. Det er nemlig snart tid til den lange vintersøvn, men inden pindsvinet finder et egnet sted at gå i dvale, har den brug for at få noget sul på kroppen – og her er gårdkattens tørkost åbenbart et fint supplement.
Lav en god vinterseng til pindsvinet.
Fra naturens hånd bruger pindsvinet gerne naturlige blade- og grendynger i skoven, hvor de putter sig ind og søger ly for vinteren. Hvert år producerer træerne i min have dyngevis af blade – og jeg samler dem gerne sammen i en dynge i et fjernt hjørne – og pindsvinene elsker det. Sidste år gik jeg et skridt videre og byggede en egentlig pindsvinehule. Måske lige så meget for min egen skyld som for pindsvinets. I al sin enkelhed tog jeg blot en gammel æblekasse af træ og vendte bunden i vejret på den. Jeg lagde et stykke plastik over kassen som regntæt tag, lavede et lille indgangshul på ca. 12 gange 12 cm. Jeg fandt fire grene, der blev slået i som pløkker omkring kassen for at stormsikre den. Derefter forede jeg hulen med lidt græs og blade – og dækkede så ellers et trillebørlæs af de blade jeg havde sammenrevet i haven, henover min pindsvinehule. Færdig!
Og til min store fornøjelse blev hulen ret hurtigt taget i brug. Sidst i august i år så jeg to knytnæve-store unger nusse omkring hulen 😀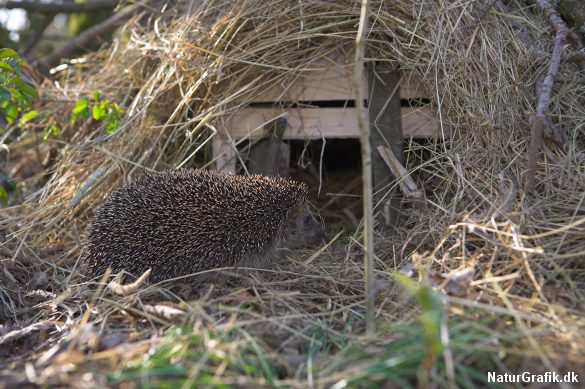 Der findes dog mange, mere avancerede modeller på pindsvinekasser – og på nettet kan man endda købe færdige modeller, men mindre kan altså også gøre det. Se evt. en model her: fuglekasser, flagermusekasser og pindsvinebo.
Ungerne efterlades og går sidst til ro.
Allerede sidst i september, lidt afhængig af vejret, begynder de første han-pindsvin at takke af for i år og gå i hi. De har ikke været forulempet med deres afkom og har derfor haft god tid til at æde sig klar til vinteren. Pindsvin kender ikke til ligestilling. Hunnerne har derimod haft travlt med at passe ungerne og er derfor først klar til vinterdvalen fra midten af oktober. Herfra bekymrer pindsvinemor sig ikke længere om sit afkom. De endnu små og uerfarne unger skal bruge længere tid til at finde den nødvendig føde for at opbygge sul på kroppen til at sove trygt fra den mørke vinters frost og snedriver.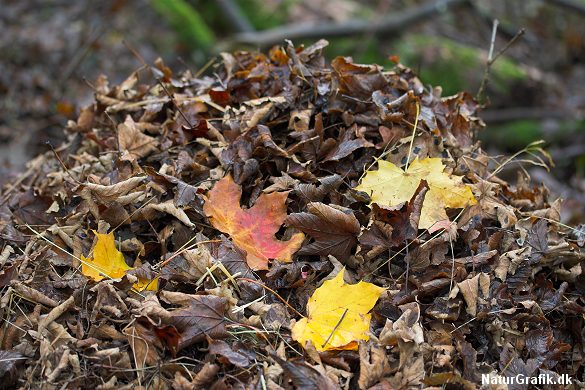 Læs mere om pindsvin