Med ét bliver trækronerne levende. Finkefugle i hundredetal går synkront på vingerne henover birkesumpen. Det er gråsiskener fra nord på gennemrejse!
Af Marianne Riis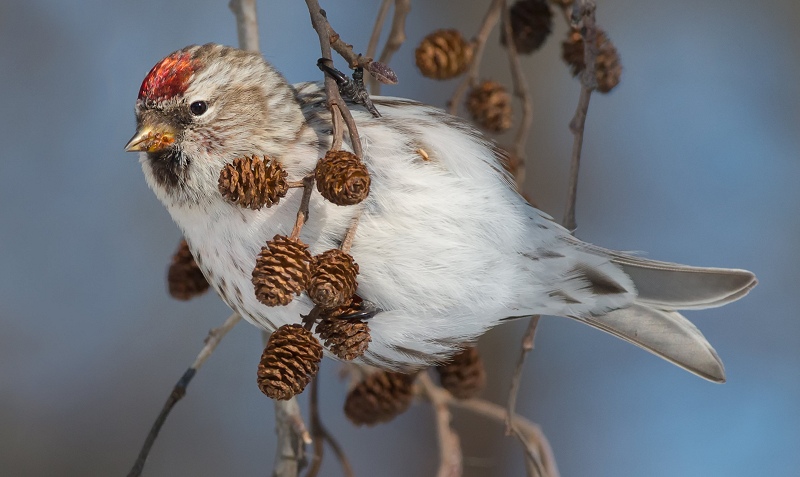 Vi er på tur på en kold decemberdag i Store Vildmose. Fugleflokken flyver ud over mosen, men vender rundt og kommer tilbage henover os igen – og lander atter i trækronerne, mens de lystigt kvidrer.
Mod den grå decemberhimmel og slud i luften er der ikke meget farvespil i fuglene, der synes at passe fint til deres navn – grå siskener, men når kikkerten får lov at stille skarpt tegner der sig alligevel en smuk, lille fugl med en flot, rød isse og en fin sort hagesmæk.

Fuglene er flygtet fra trænge tider langt mod nord – formentlig fra det nordlige Skandinavien, men der er muligvis også nogle russere med. Tusinder af gråsiskener kan flyve nedover Danmark når vinteren tager til hvor de kommer fra og birkeskovenes frøforsyninger slipper op.
Fuglene er næsten altid sociale og optræder i flokke. Her kaster de sig med forkærlighed over birketræer og elletræer – på jagt efter frø. Det er en oplevelse at stå under disse træer, der er invaderet af de nordlige gæster. Der er et lystigt liv i trækroner og fuglene kvidrer konstant.
Fra en til to arter
Det er ikke så mange år siden at gråsisken blev delt op i to selvstændige arter. Lille Gråsisken (Acanthis cabaret) og Stor Gråsisken (Acanthis flammea). Den sidstnævnte er den, der besøger os fra nord i vinterhalvåret, mens Lille gråsisken yngler herhjemme – indtil videre med en vis kærlig for vestkystens nåleskove.
Begge arter har en rød pande og sort hage og ligner hinanden at de færreste vil tænke over forskellen. Stor gråsisken er dog som navnet angiver en anelse større end lille gråsisken. Den virker også lysere grå, hvor lille gråsisken er mere brunlig.
Besøg helt fra Kina
De livlige gråsiskener kan komme langvejs fra. Det har ringmærkninger afsløret. For et par år siden fløj en gråsisken i ringmærkernes net ved Skagen Fuglestation. Fuglen bar i forvejen en ring, der kunne fortælle at den lille fugl var ringmærket så langt væk som i det nordøstlige Kina. Samme sted gik senere en anden gråsisken i nettet – og denne bar en ring fra Island.
Gråsisken kan af og til lokkes til foderbrædtet, hvor den gerne tager mindre frø.
Kilder: dof.dk, naturbasen.dk, nordjyllandsfugle.dk. Forsidefoto: Simonas Minkevicius/Dreamstime.com.