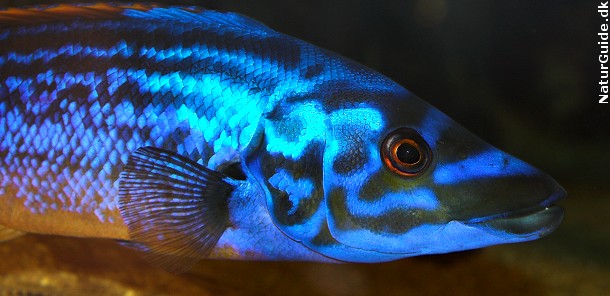 Danske fisk i tropefarver.
De fleste forbinder med rette farvestrålende fisk med troperne, men Danmarks dyreliv gemmer på overraskelser som de færreste er klar over. Danmark er omgivet af mere end 7000 km kyststrækning og man tror det næppe når man ved kysten spejder ud over det blågrønne, kølige hav. Under overfladen gemmer, der sig fisk i farver, der til fulde kan matche deres tropiske slægtninge.
Blåstak og rødnæb – han og hun
Den mest prangende af dem alle er nok blåstakken (Labrus mixtus), der kan måle op til 30-40 cm. Blåstakken kan træffes helt inde på lavt vand mellem ålegræsset, men ses også ude på dybt vand ned til 200 meter. De ældre hanner hos blåstakken er nærmest skrigende blå, hvor hunnerne er rødorange og kaldes for rødnæb.
Tidligere troede man at de to meget forskellig-farvede fisk var to selvstændige arter og det har derfor fået hver deres navn.
Fisken er ikke kun speciel på grund af sin farve. Den kan nemlig skifte køn! De fleste blåstakke bliver til hunner, men senere i livet skifter en del af hunnerne køn – og bliver til hanner med de stærke, blå farver. Dette utrolige fænomen optræder gerne når en ledende han for en flok hunner dør. Herefter begynder en af de største hunner at skifte køn og overtager herefter rollen som leder af flokken.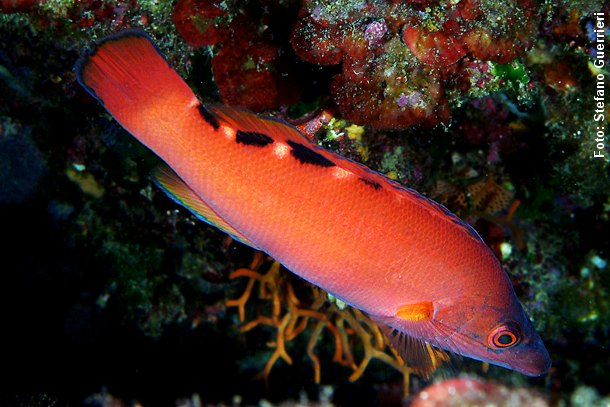 Blåstak/rødnæb er almindeligt udbredt i Danmark i Nordsøen, Kattegat og i den vestlige Østersø. Fisken foretrækker kystnære område med stenrev og klipper, men kan også findes på sandbund med ålegræs.
Af andre farverige fisk i danske farvande bør også nævnes berggylten og den mindre savgylte, hvor sidstnævnte ikke sjældent kan opleves af snorklere på lavt vand mellem sten, tangplanter og ålegræs. Også rød knurhane og den giftige fjæsing er farverige indslag i den danske undervandsverden.

/NL
Kilder: Danske fisk, Anders Uldal/ Gyldendal, Naturporten.dk