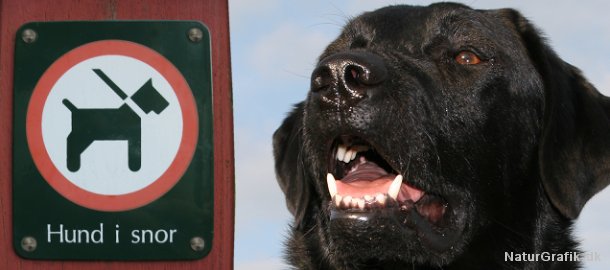 Stramninger i hundeloven betyder at hundeejeren nu risikerer 2000 kr i bøde for at glemme hundesnoren. Samtidig skærper Miljøministeriet kursen mod løse hunde i naturen.

Af Marianne Riis, VisitNature.
Problem med løse hunde i naturen.
På baggrund af de senere års tilsyneladende mere afslappende tendenser fra nogle hundeejere, der lod den firbenede løbe løs i naturen har Miljøministeriet nu skærpet kursen og meldt ud til landets statslige skovridere og skovfogeder at der nu er indført nul tolerance overfor løse hunde i naturen. Det betyder at alle ejere af løsgående hunde straks skal noteres og via politiet præsenteres for et bødeforlæg.
Den skærpede kurs sker bl.a. på baggrund af et stigende antal hunde, der på egen hånd jagter dyreliv i naturen og flere eksempler på skambidte rådyr. Dertil kommer at Skov- og Naturstyrelsen får mange henvendelser fra borgere, der føler sig utrygge ved løse hunde på offentlige stier og anlæg.
Hundeloven strammet. Nye bødetakster.
Sideløbende er hundeloven blevet strammet. I forbindelse med den seneste ændring af rigets Lov om hunde er der her i efteråret 2010 kommet nye bødetakster for lovovertrædelser.
En hund, der ikke føres i snor i henhold til politivedtægten/kommunalbestyrelsens bestemmelser takseres nu således til 2000 kr. i bøde i følge en ny vejledning fra Rigsadvokaten. Mangler hunden også halsbånd og hundetegn koster det 1000 kr. ekstra til statskassen! Og såfremt ordensmagten spørger til den lovpligtige hundeforsikring koster det dertil 3000 kr., hvis en sådan ikke er tegnet. Alt i alt kan det derfor være en ganske dyr affære at være hundeejer med tendens til "forglemmelser".
Hensyn til naturen
Bestemmelser omkring hunde i snor reguleres ikke kun af Lov om Hunde, men også i Naturbeskyttelsesloven, hvor det fremgår at hunde skal føres i snor i skove, på udyrkede arealer (f.eks. heder, enge og moser) og i klitfredede arealer. På strande skal hunden være i snor fra 1. april – 30. september. Bestemmelserne er indført både af hensyn til øvrige brugere af naturen og de vilde dyr og fugle.

Taksterne for overtrædelse af Naturbeskyttelsesloven ventes fremover at følge vejledende takster for hundeloven d.v.s. 2000 kr. for ikke at have hunden i snor.

Et stigende antal hundeskove, hvor hunden kan løbe frit
Der er dog stadigvæk mulighed for at hundeejere kan have hunden løbende frit på offentlige arealer. Skov- og Naturstyrelsen har indrettet over 150 såkaldte hundeskove over hele landet, hvor hunde må færdes uden snor. Også mange af landets kommuner har oprettet hundeskove til glæde for både hund og ejer.
Er du i tvivl om reglerne i den nye hundelov kan du læse en vejledning fra politiet på dette link.
Kilde: Borger.dk, Rigsadvokaten.dk, Skov- og Naturstyrelsen.