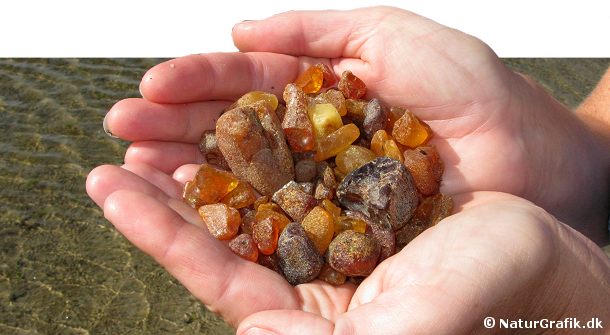 Ravklumpens historie.
Rav er hærdet harpiks, der er millioner af år gammel. Harpiksen er træernes forsvarsmiddel mod skader og angreb fra f.eks. biller og svampe. Et såret nåletræ vil bløde harpiks, der bliver tykt og klæbrigt når det kommer i forbindelse med luften.
Det er typisk mellem 30-50 millioner år gammelt, men der kendes noget, der er endnu ældre. På Bornholm har man fundet rav der er 170 millioner år gammelt og der kendes rav, der er op mod en kvart milliard år gammel!Teoretisk kan en dinosaur for 75 millioner år siden have lavet en sårskade på et træ og derved forårsaget at træet begyndte at bløde harpiks. Noget af harpiksen er måske faldet ned i skovbunden eller i et moseområde og størknet. Senere i historien er havet rykket ind og oversvømmet den gamle skovbund, hvorved harpiksen kom under tryk fra vandmasserne. Millioner år senere igen, under istiden, blev jord og ismasser presset mod vest til det der i dag er Danmark. Ravet fulgte med. Det rav vi i dag finder langs kysten – opskyllet på stranden, stammer altså fra urtidens skove af fyrretræer, der voksede mod øst for mange millioner år siden.
"Vinterhalvåret – efter en storm, er det det bedste tidspunkt at lede efter rav…"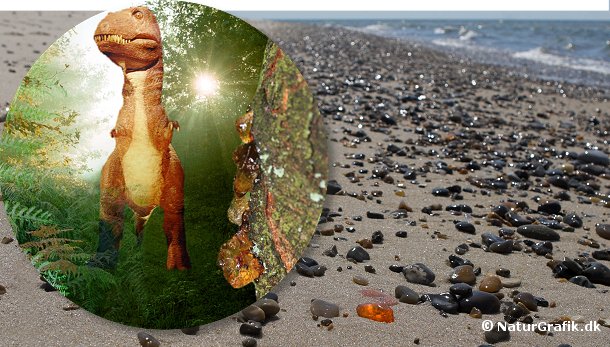 Nordens guld
Rav har været anvendt siden oldtiden til smykker og givtige byttehandler. Ikke mange smykker rummer så spændende en historie som rav.
Holder man det op i lyset kan man ofte se et flot mønster. Måske gemmer der sig et insekt, der blev fanget af den klistrede harpiks for millioner af år siden.

Her skal du lede
Der kan findes rav ved alle vores kyster, men især ved den jyske vestkyst og Vendsyssels østkyst kan man ofte være heldig. Efter en storm eller kraftig blæst er det en god ide, at tage ud og prøve lykken. Rav er lettere end sten og bliver skyllet op på stranden sammen med det øvrige opskyl af tang og skaller. Det er i dette opskyl man skal lede. Det er bedst når der er fralandsvand. Ved fralandsvand dannes der nemlig en modgående understrøm nær havbunden, der transporterer det lette rav ind på stranden.
Største chancer i vinterhalvåret
Rav kan findes hele året, men langt det meste findes i vinterhalvåret. Her er havet koldest, og har den bedste opdrift til at bære ravet ind på stranden. Om vinteren er der desuden færre strandgæster og dermed færre konkurrenter til at samle.
Kend dit rav
Rav kan have forskellige farver fra gult til orangerødt. En stor del af det der findes herhjemme er gulligt og har altså ikke nødvendigvis den rødbrune farve de fleste forbinder med rav. Der findes mange sten langs kysten, der ligner med samme orange-gule farve. Rav er dog lettere end sten og har en mere hul lyd når man slår det let mod tænderne.
Er du stadig i tvivl om et fund, så opløs ca. 170 g salt i 1 l vand. Her vil rav flyde ovenpå, mens sten vil synke.
Man kan også få hjælp til at finde rav med de smarte ravlygter. Læs mere om det her: Find rav med UV-lys.
Det er altid rart med en god travetur ved havet. Der er meget at se og finde på stranden – også selvom man ikke finder rav. Læs mere her