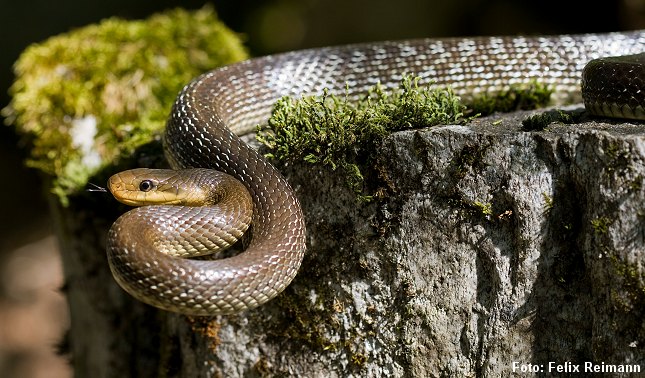 Æskulapsnogen (Zamenis longissimus) er en af Europas længste slanger. Den ugiftige, træklatrende snog kan måle over 2 meter, men bliver som oftest omkring 150 cm.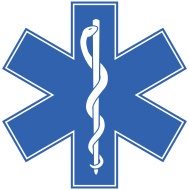 I Danmark er æskulapsnogen mest kendt for lægernes symbol, en slange, der snor sig om en stav. Slangen på staven er netop en æskulapsnog, og staven kaldes naturligt nok for æskulapstaven. Staven med den omsnoede slange menes at have været symbolet for lægernes kunst i mere end 3000 år.
Levede tidligere i Danmark.
Æskulapsnogen har tidligere levet i Danmark. Ifølge fossile fund var slangen engang udbredt på vores kanter under den varmere atlantiske periode for omkring 5000-8000 år siden. Helt op i nyere tid menes æskulapsnogen at have levet i Danmark. Arten er sidst fundet i Danmark i 1910 og regnes i dag ikke længere for en dansk slangeart. I takt med klimaforandringer og et mildere klima hos os, er æskulapsnogen et af de krybdyr, der efter alt at dømme, kan vende tilbage til den danske natur.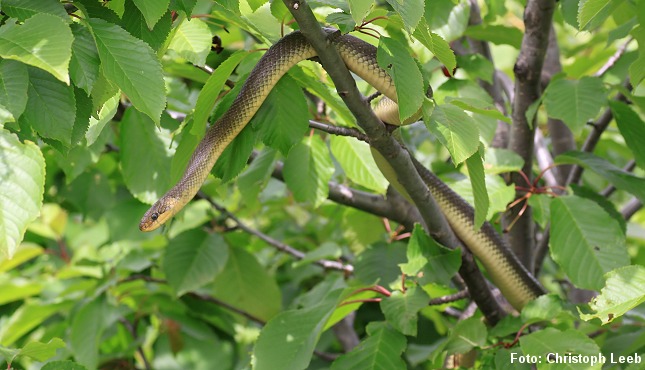 Klatrer i træer.
Æskulapsnogen er en dygtig klatrer og ses gerne i trævegetation. På dansk blev den tidligere ofte kaldt for hasselsnog eller slet og ret hasling. Den lever af mindre pattedyr op til rottestørrelse som den dræber ved kvælning. Den tager også gerne fugle, fugleunger og æg, når lejligheden byder sig.
Kilder: froglife.org, Wikipedia.