Sensation i Danmark: To-hovedet giftslange fotograferet i Vestsjælland!


Af Marianne Riis, VisitNature.
Fire orange-røde slangeøjne stirrer stift frem og holder et vagtsomt øje med omgivelserne. De fire øjne sidder på én og samme slange. Det lyder som ren science fiction, men det er faktisk hvad Benny Rohde Nielsen, Vestsjælland, gentagne gange har oplevet ved sit sommerhus i Odsherred. Benny Rohde opdagede slangen under en gåtur langs kysten og måtte kigge en ekstra gang da slangen viste sig at have to hoveder!
"Den var ca. 15 cm. lang og på tykkelse med en kuglepen. Det så ud til, at begge hoveder fungerede lige godt. Den spillede med begge tunger. Heldigvis havde jeg mit kamera med og nåede at tage nogle billeder af slangen inden den forsvandt", fortæller Benny Rohde Nielsen.
"Jeg har aldrig set noget lignende og kom til at spekulere på, hvor stor en overlevelseschance denne lille fyr vil have i naturen", tilføjer han.
Benny Rohde sendte spørgsmål og billede ind til Miljøministeriet, der dagligt svarer på mange spørgsmål fra borgerne om dyr og natur. Her gjorde man store øjne over de sensationelle billeder.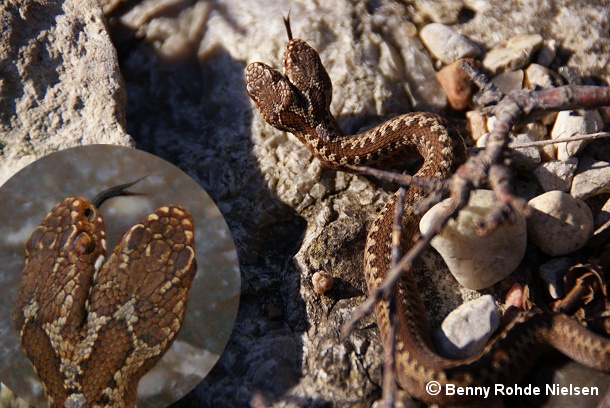 Siamesiske tvillinger.
Skovfoged og naturvejleder Niels Dahlin Lisborg, der modtog Benny Rohdes spørgsmål, har ikke tidligere set slanger med to hoveder i den danske natur. "Det er mig bekendt helt enestående herhjemme! Fra udlandet kendes eksempler på slanger med to hoveder, men det er første gang jeg hører om fænomenet i den vilde, danske natur", oplyser Niels Lisborg, der mener at hugormen er en unge, der er født i august.
Zoologisk Museum i København har heller ikke nogle optegnelser over lignende opdagelser i Danmark.
"Slangen er i princippet to individer fanget i samme krop", fortæller Niels Lisborg. Fænomenet opstår på samme måde som siamesiske tvillinger, der grundlæggende er enæggede tvillinger, der ikke er blevet adskilt under fosterudviklingen. Et befrugtet æg starter med at dele sig i to, men adskillelsen bliver aldrig helt fuldført. Ligesom siamesiske tvillinger kan slanger hænge sammen. Desværre overlever slangerne sjældent ret længe i naturen.
"De to hoveder vil i mange tilfælde konflikte med hinanden. De har hver sin hjerne og vilje. Hugormen er en giftslange og den er afhængig af et præcist hug mod et bytte for at sikre sig mad", fortæller naturvejlederen. "Slangen her skal så at sige blive enig med begge hoveder for at kunne levere et effektivt bid" Bl.a. på den baggrund spår Niels Lisborg desværre ikke den 2-hovedet hugorm mange chancer i naturen.
Benny Rohde Nielsen så for nylig igen hugormen nær sit sommerhus. "Den lå og nød efterårets sene solstråler, men forsvandt så ned i et hul. Hugormene går snart i dvale og jeg håber da at dyret klarer vinteren – og vi ser den igen til foråret", siger Benny Rohde, der med sin årvågenhed og interesse for naturen har videregivet et af naturens sjældne luner. Fundet er nu registreret ved Zoologisk Museum sammen med et par af Benny Rohdes enestående billeder.