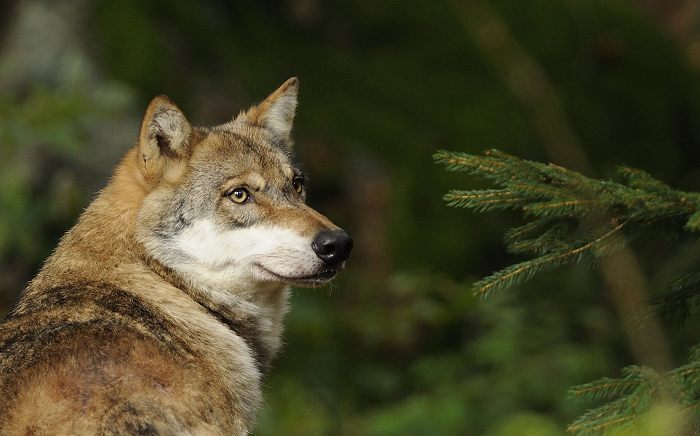 En 66 årig vestjyde er i dag ved retten i Herning dømt for at nedskyde en ung hunulv fra sin bil, men slipper for at skulle i fængsel. Dommen er markant mildere end tilsvarende sager i Norge og Sverige.
I det tidlige forår blev en ung hun-ulv først jaget af en landmand med sin traktor, hvorpå et familiemedlem – den nu dømte 66 årige, dukkede op i sin firehjulstrækker medbringende en skarpladt riffel i bilen. Den dømte jæger skød 3 skud ud af vinduet fra bilen – og ramte den forvirrede ulv ude på en mark. Ulven blev ramt af ét skud i maven og døde kort tid efter.
Ved retten i Herning slap manden med en dom på 40 dages betinget fængsel og får tilmed lov at beholde sit jagttegn, hvilket må siges at være en mild dom i forhold til strafferammen – og i lyset af at ulvedrabet er sket selvom det ikke er i nødværge eller med fare for husdyr.
Manden får dog konfiskeret sin riffel, men beholder således retten til at købe en ny i morgen.
Det skærpende i sagen er til dels, at manden erkender at have skudt ulven, men ikke accepterer, at det er en ulovlig handling samt at handlingen er planlagt, idet manden kører hjemmefra med en riffel med henblik på at finde og skyde ulven på en afsides, åben mark, hvor der ikke er husdyr i nærheden.
Anklageren anførte i retten at ulven luntede stille og roligt afsted langs marken, hvilket også fremgår af optagelserne. Anklagemyndigheden krævede mindst 3 måneders ubetinget fængsel, hvilket er i den lave ende af strafferammen, der går op til 2 års fængsel.
Skuddet blev affyret med en jagtriffel, der har en rækkevidde på adskillige kilometer.
Hele seancen blev optaget på video af to mænd, der var på tur – og også havde set og fulgt den unge hun-ulv. Videoen fra YouTube kan ses herunder:

Dommen er den første af sin slags i Danmark siden ulven genindvandrede til landet i 2012 og ventes at danne præcedens for eventuelle kommende sager.
Tidligere i år blev en anden dansk jæger sigtet i Tyskland for at skyde en tysk ulv under en fællesjagt. I Tyskland er strafferammen op til 5 års fængsel, men da jægeren, der ikke tidligere er dømt, straks beklagede hændelsen, valgte den tyske anklagemyndighed at straffe danskeren med en firecifret bøde i euro.
Højere strafferamme i Norge, Sverige og Tyskland.
I Sverige og Norge er der tidligere givet ubetinget fængselsstraffe for ulovlig nedskydning af ulve. For et par år siden blev en nordmand således idømt 7 måneders fængsel. Både i Sverige, Norge og Tyskland er strafferammen noget højere end i Danmark for at skyde en ulv.
Den dømte, der i tidligere sammenhænge har repræsenteret Dansk Skovforening, valgte at tage sig betænkningstid i forhold til modtagelse af dommen.
/JN
Kilder: Flensborg Avis, Politiken.dk, dagbladet-holstebro-struer.dk, dr.dk.