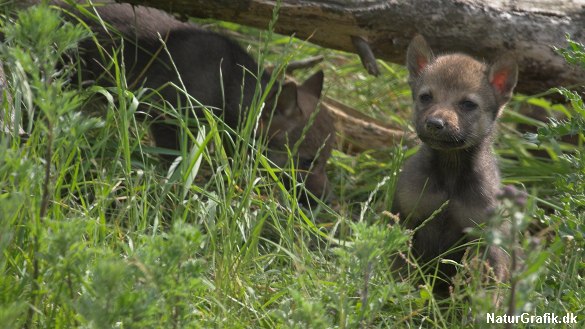 Har ulvene fået unger?
Medlemmer af netværket Ulvetracking er sikre på at de har fanget lydoptagelser af de første, danske ulvehvalpe siden ulven blev udryddet i Danmark for 200 år siden. "Det er lykkedes os at optage 2 hyl som vi er sikre på er ulvehvalpe. Dette er vi selvfølgelig meget beærede over at have fået lov at opleve, og denne observation mener vi er i alles interesse af få offentliggjort", skriver trackerne på deres hjemmeside ulvetracking.dk. Optagelserne er foretaget i et skovområde i Midt- og Vestjylland som trackerne ikke vil afsløre af hensyn til ulvene.
Vedholdende rapporteringer fra vidner, der mener at have set ulvehvalpe.
Vedholdende rapporteringer om observationer af ulv med hvalpe fik ulvetrackerne til at søge ud i skovområdet efter mørkets frembrud for at dokumentere påstanden gennem optagelser af ulvenes kommunikation. "Dette hyl er kortere, ikke så dybt, med mindre kraft og generelt ikke fra så stort et dyr som de tidligere hyl vi har optaget. Det er optaget direkte i området med meldinger om ulv og hvalpe", fortæller ulvetrackerne.
Indtil videre kun dna-spor fra hanulve.
Naturstyrelsen og Naturhistorisk Museum har dog hidtil kun fundet dna fra hanulve i den danske natur, men vil ikke afvise at der kan gemme sig en hun-ulv.
Kilde: ulvetracking.dk