Har du brug for at vide højden på et træ, så kan du let måle det ved hjælp af en lille pind. Læs her hvordan:
Af naturvejleder Niels D. Lisborg
Hvis træet vælter, rammer det så huset eller ud over vejen? Nogle gange kan det være rart at kende højden – og det gøres let ved hjælp af matematikken omkring ligedannede trekanter.
Vi brugte det i forbindelse med dagens udeskole, hvor der er masser af muligheder for at lave matematik i naturen.
Sådan gør du
Find et pind, der har omtrent samme længde som din arm. Når du holder pinden i hånden i strakt arm, skal den anden ende af pinden akkurat kunne nå din skulder (se foto herunder).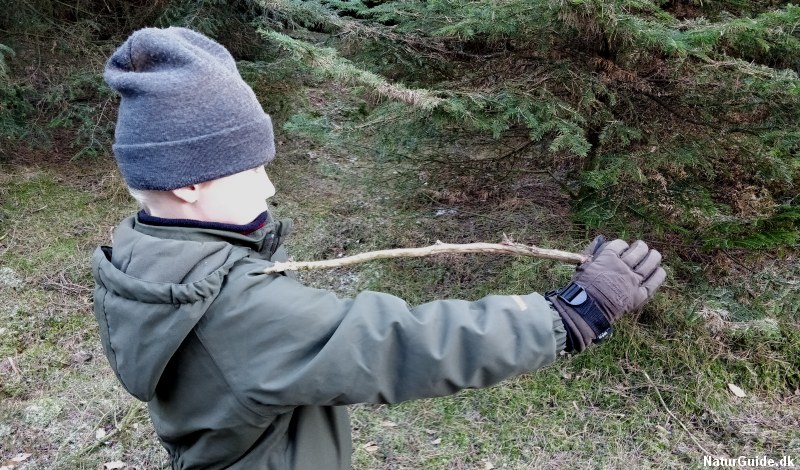 Hold pinden lodret i strakt arm ud fra kroppen. Sigt med øjet mod træet, der skal måles, så den nederste del af pinden ved din hånd flugter med træets rod – og bevæg dig frem eller tilbage indtil den øverste del af pinden flugter med træets top. Når du har fundet den rigtige afstand, er du den afstand fra træet, der svarer til træets højde.
Mål eller skridt afstanden hen til træet – og notér resultatet.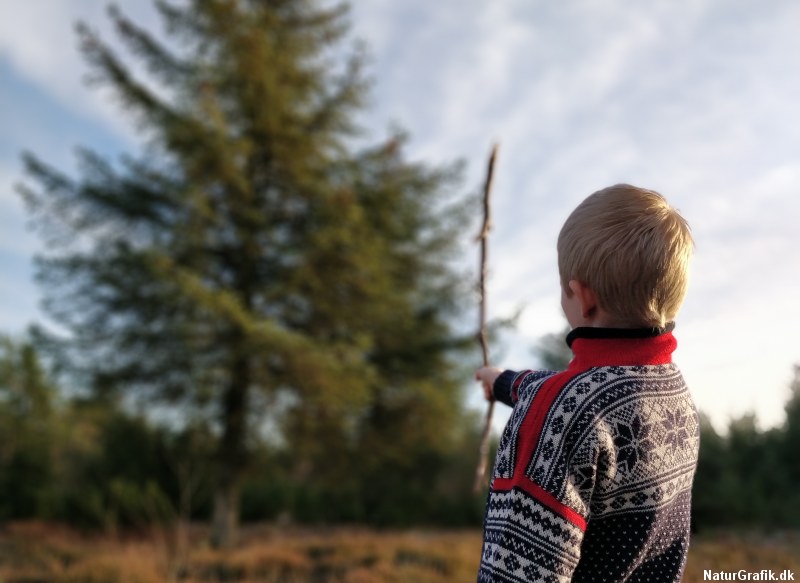 Matematikken bag
Matematikken bag er, at vi bruger to ligedannede trekanter til at finde træets højde. På figuren herunder ses de to ligedannede trekanter. Den store trekant har vi navngivet med siderne A, B, C og den lille trekant tilsvarende med siderne a, b og c.
Vinklerne i de to trekanter er ens – og derfor kaldes de ligedannede.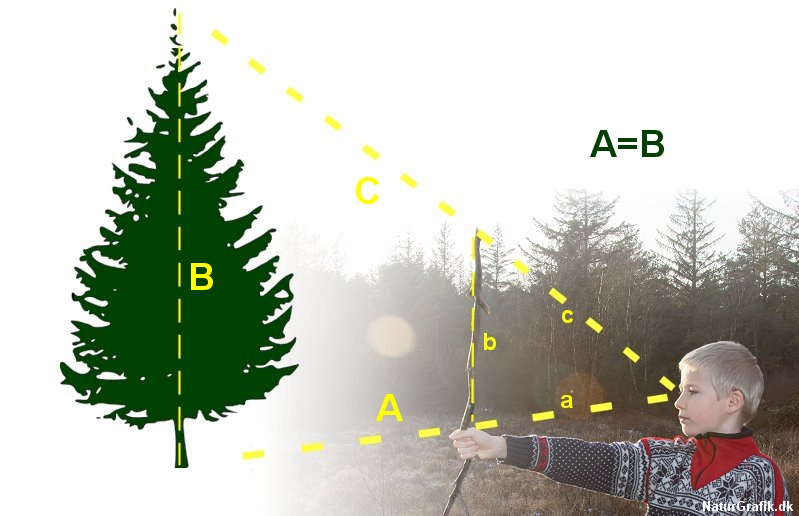 I en ligedannet trekant er forholdet mellem siderne i de to trekanter parvis konstante. Det betyder at:
Når a=b i den lille trekant, så er også A=B i den store trekant. Det betyder at afstanden fra hvor du står og hen til træet (A) er den samme som træets højde (B).
Kilder: skoven-i-skolen.dk