Massiv brug af gift for at bekæmpe invasive arter.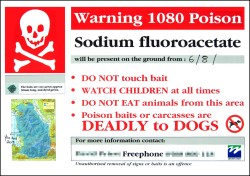 New Zealand har erklæret krig mod rotter og lækatte. Begge arter er indført til landet fra Europa og udgør nu så stor en trussel mod det oprindelige dyreliv i New Zealand, at regeringen har givet grønt lys til brug af en kontroversiel gift for at komme invasionen til livs. Det er planen at giften, betegnet "1080", skal kastes ud over et areal på over en million hektar skov for at ramme så mange skadedyr som muligt. Ifølge regeringen vil eksempelvis rottebestanden stige tifoldigt til 30 millioner individer, alene i indeværende år, hvis der ikke gribes ind!
Rotterne har opformeret sig på baggrund af gode oldenår med rige frøkilder fra New Zealands store ekstensive bøgeskove. Når frøproduktionen aftager igen frygter myndighederne at rotterne i stedet kaster sig over de indfødte fuglearters æg og yngel.
Også det lille, europæiske rovdyr lækatten udgør en trussel og ifølge New Zealands Department of Conservation står lækatte bag mange dræbte kiwi-fugle. Der menes at der i dag er omkring 25.000 lækatte i landet.
I følge Nick Smith, som er minister for naturbeskyttelse, er millioner af fugle truet. Det gælder særligt New Zealands nationalfugl kiwien og de endemiske kaka- og keapapegøjer. Ifølge Nick Smith skal skrides til handling nu, hvis vores børnebørn skal have en chance for at opleve en kiwi i den vilde new zealandske natur.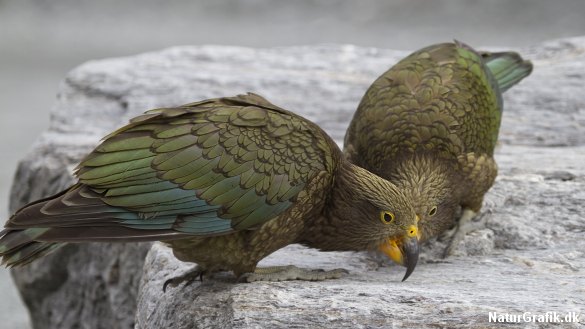 Flere miljøorganisationer har været i mod brugen af "1080" , da de mener giften risikerer at dræbe nogle af de samme truede fugle som man forsøger at redde – og at der yderligere mangler bevis for at der er tale om en regulær trussel fra rovdyrenes side. Regeringen mener dog klart at der er tale om en trussel og at det er urealistisk, at komme problemet til livs på andre måder. At opsætte fælder for at fange millioner af rovdyr som rotter er ifølge myndighederne ikke muligt.
Den new zealandske regering har foreløbig afsat 18,5 millioner US$ til projektet som kaldes for "slaget for vores fugle".
1080 har før været anvendt til at bekæmpe opossumer – et pungdyr indført fra Australien og som i dag udgør en af de største trusler for den new zealandske natur.
/MR
Kilder: BBC Nature, doc.govt.nz.