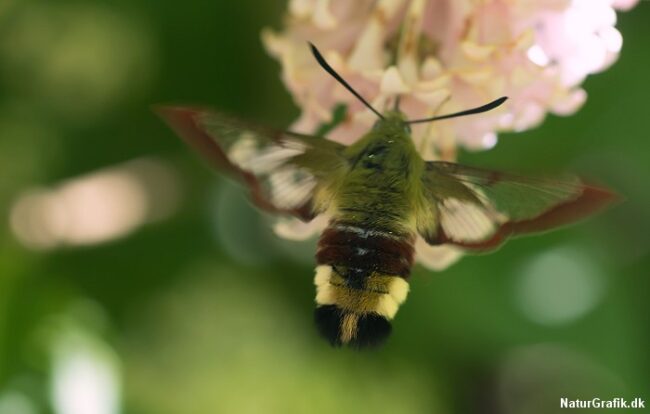 Så blev det NaturGuide.dk's tur til at få fornemt besøg. Lige udenfor vinduet havde en fin humlebisværmer nemlig stemplet ind på matriklen.
Ligner en humlebi, men er en sommerfugl.
Ved første øjekast kan det store insekt minde om en stor humlebi. Humlebisværmeren hører dog til sommerfuglene, nærmere bestemt aftensværmerne. Der findes i Danmark to arter af humlebisværmere, smalrandet og bredrandet. Det var sidstnævnte vi havde besøg af. Det er også den mest almindelige herhjemme, men den imponerer alligevel når den med sine hurtige vingeslag minder om en kolibri på besøg i de mange blomster.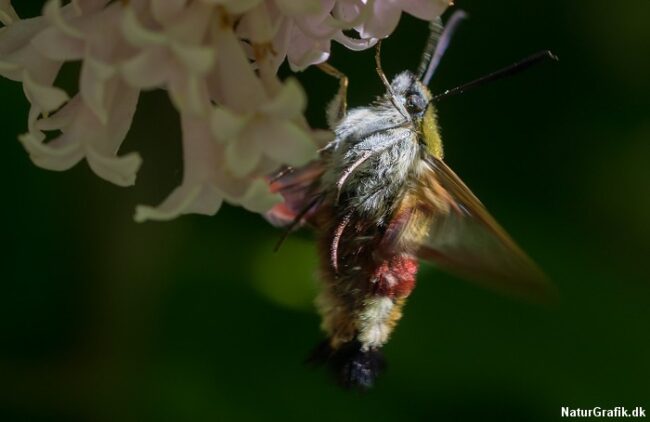 Fakta om Bredrandet humlebisværmer (Hemaris fuciformis).
Den har et vingefang på 38-48 mm.
Når den klækker er forvingerne dækket af skæl som dog falder af ved første flyvetur. Herefter er de næsten helt glasklare.
Kroppen er olivengrøn med to rød-brune led på bagkroppen.
Den elsker syrener, men kan også findes på andre planter som eks. mælkebøtter, slangehoved m.fl. og findes ofte på steder med en rig blomsterflora.
Den grønne larve kan ses fra juni til august, hvor den voksne humlebisværmer er at finde i maj-juli.
MR/
Kilde: fugleognatur.dk