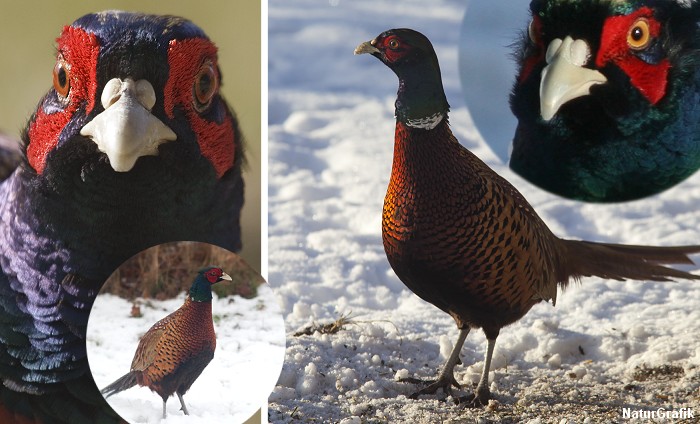 En kok for meget.
To gyldenbrune fasanhøner skraber i sneen under havens foderbræt. Lidt derfra står en stolt, flot farvet fasankok. Han lader sit harem komme til. Småfuglene har spildt både brødrester, frø og korn – og det kommer nu fasanerne til gode.
Pludselig strækker kokken hals! Hvad er nu det? En anden, stor og prægtig fasankok dukker op nederst i haven. Den ny-ankomne er sulten og vil have del i goderne. Han lader sig ikke skræmme af pladsens kok – og snart står de to haner ansigt til ansigt. Pladskokken viser tydeligt at den indtrængende han er uønsket.
Normalt kan kokkene sagtens enes her i vintertiden, men måske har det milde vintervejr sat skub i forårsfornemmelserne – og forår betyder territorium! Eller måske er det vinterens knaphed på føde og den favorable plads ved foderbrættet, der udløser striden?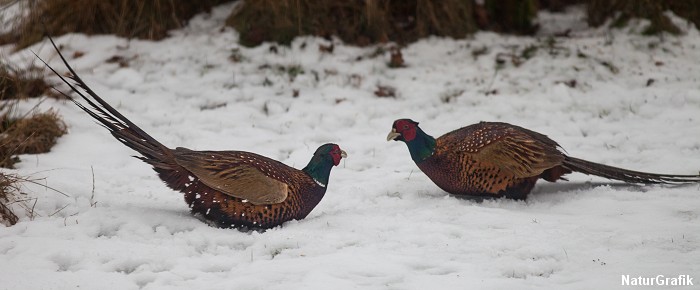 Det trækker op til kamp! Med sænkede hoveder nedstirrer de hinanden for en stund. Så går det løs! Med spring, spark og hakkende næb hvirvler kamphanerne rundt. Først den ene vej, så den anden vej. Så tilbage til et par minutters pause med truende nedstirring – ansigt til ansigt, før det igen går løs med hop og vingebask.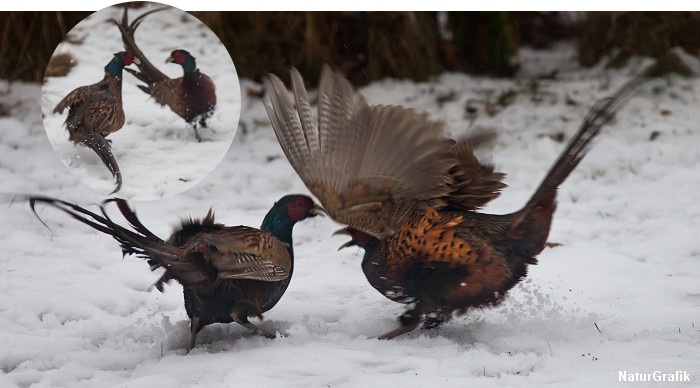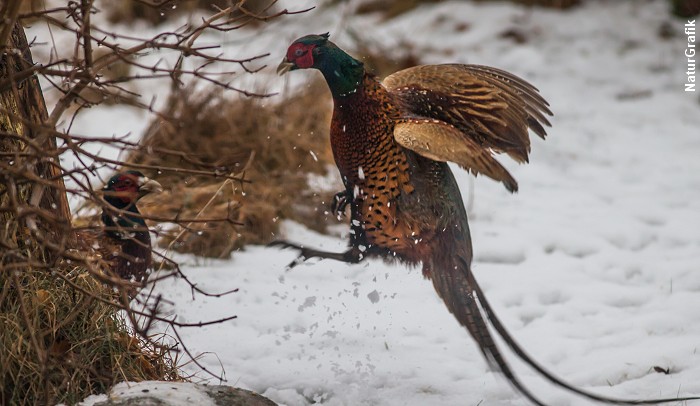 Det ser ud til at pladskokken er den stærkeste – og i hvert fald den mest aggressive. Til sidst stikker indtrængeren af i ilende hurtigløb. Dog kun ned til bunden af haven, hvor han kom fra. Herfra løfter han hovedet og bruser med vingerne, mens han skogrer højt: "Jeg er her stadig". Derefter lister han ud igennem hækken og forsvinder.
Roen er genoprettet ved foderbrættet – for en stund.
Allerede i oldtiden blev fasanen indført i Grækenland og videre herfra til Romerriget. Fasanen blev første gang indført til Danmark i 1562 under Frederik II, men først langt senere – i 1870'erne, fandt de første succesfulde udsætninger sted. I dag er fasanen udbredt over hele landet og regnes af de fleste for en dansk fugl.
Kilder: Dof.dk