Grandpa's firefork og firegrill. Vi tester et par svenske opfindelser, der gør livet omkring bålet lidt lettere.
Af Marianne Riis
For nogen tid siden blev jeg opmærksom på at svenske Light My Fire har lavet nogle smarte grillspyd, der let sættes ned over en pind – og vupti så er grillspyddet klar. "Grandpa's firefork" kaldes de.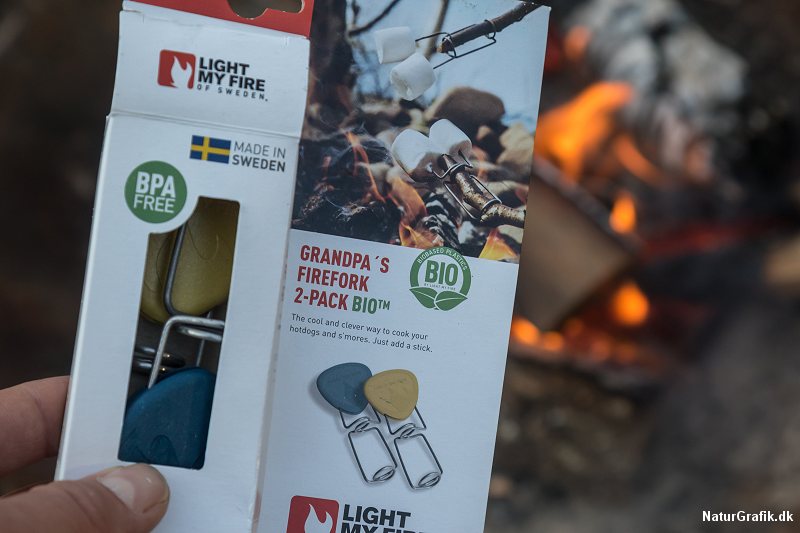 Jeg ved ikke hvem bedstefar er, men vi besluttede at teste gaflen i vores lille familie. Fidusen er at man let kan finde en pind i skovbunden. Det betyder ikke så meget at den er lidt skæv. Derpå tager man firefork'en og trykker den let sammen og skubber åbningen ned over pinden. Når man slipper spænder fire-fork'en fast om pinden. Helt skævt er det ikke! En pølse sidder noget bedre på denne gaffel fremfor når man stikker en pind igennem pølsen, hvorpå den ofte flækker. Firefork'en er også fin, hvis man vil grille en majskolbe. Mulighederne er mange.
Grandpa's firefork (annoncelink til butik) kan bruges igen og igen og man behøver ikke længere at snitte og afbarke en frisk pind hver gang.
Der medfølger en beskyttelseshætte, der fungerer godt, så man undgår at prikke sig under transport og opbevaring. Firefork'en er også nem at rengøre. Fremover har vi Grandpa's firefork med på tur. Beskyttelseshætterne fås i fire farver – og vi har fået hver vores.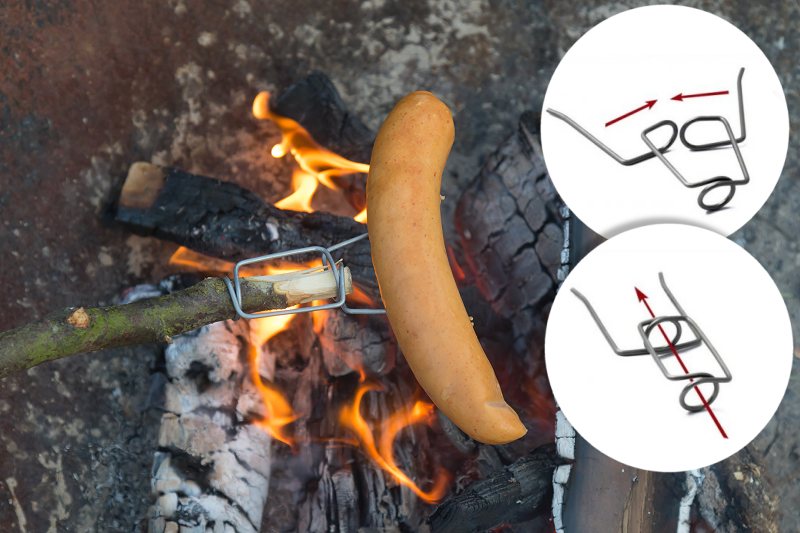 Grandpa's firefork (annoncelink til butik) koster typisk mellem ca. 60 kr. og 100 kr. i butikkerne for to stk., så det er ikke en stor investering.
Grandpa's firegrill
Grandpa's firegrill (annoncelink til tilbud) er faktisk på mange måder endnu smartere, da den har endnu flere anvendelsesmuligheder. Firegrill'en monteres tilsvarende let på en pind. Den fungerer som en lille rist, der kan lukke sig sammen om det man ønsker at grille. Det kan være en bøf, en fisk eller grønsager m.m. Med firegrillen er det nemt at grille på begge sider da man jo blot drejer pinden rundt, hvor f.eks. et stykke kød på en klassisk bålrist skal vendes – og hvor det er sværere at se hvor meget det har fået på undersiden.
Firegrillen fylder ikke meget og er derfor let at have med på tur. Den vejer kun 255 gram.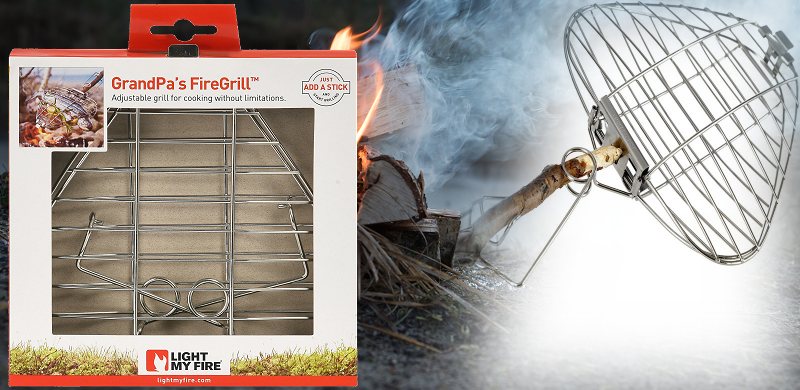 Grandpa's firegrill er fremstillet i rustfri stål og kan i følge producenten fint gå i opvaskemaskine når man kommer hjem fra tur. Den kan købes hos Scandihills til ca. 110 kr (annoncelink til butik).
Risten kan også klappes ud og fastlåses som en egentlig bålrist, hvor den placeres over bålet f.eks. mellem to sten. Så er det bare at lægge pølserne på…
---
NaturGuide.dk tester og sammenligner netbutikkerne i relation til brugervenlighed, sikker netbetaling og kundeanmeldelser. Som altid gør vi opmærksom på at NaturGuide.dk modtager et provenu for annoncer, henvisninger og salg, men vi går aldrig på kompromis med vores egen overbevisning. 10 % gives til naturbevarende formål uden ekstra udgift for forbrugeren. Vi tager forbehold for prisændringer hos producenter og netbutikker.