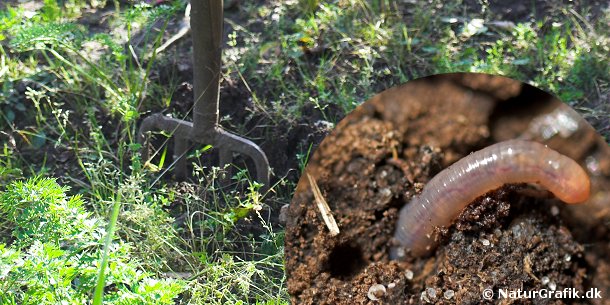 Hvis ikke køkkenhaven allerede er gravet er det nu ved at være tid. Og i den forbindelse støder vi ofte på en af havens vigtige beboere; regnormen. Det har måske ikke charmen med sig som andre af havens skabninger som egernet eller mejsen, men alligevel…ved nærmere bekendtskab…
I hvert fald har regnormen en særlig plads hos de fleste haveejere for sin særlige evne til at omdanne nedfaldne blade til god havemuld og give jorden en god struktur med sin aktivitet i det underjordiske.
Regnorme kan blive flere år gamle.
Regnormene har udviklet en fantastisk tilpasning til sit element. Den har ingen synlige øjne, men kan alligevel skelne mellem lys og mørke. Den kan "trække" vejret gennem huden og så er den både han og hun i samme krop – en såkaldt hermafrodit. Og vidste du i øvrigt at en regnorm kan blive flere år gammel? Måske er det den samme regnorm du mødte, da du gravede have sidste år.
2 meter lang regnorm!
Der findes ca. 20 arter af regnorme i Danmark, men det er dog nok især arten stor regnorm (Lumbricus terrestris), der gør sig bemærket når vi tilfældigt får den gravet frem af mulden – eller vi møder den en regnvejrsaften henover fliserne. Stor regnorm kan nå en imponerende størrelse på over 25 cm, det er dog intet at måle imod verdens længste regnorm: den australske Gippsland regnorm (Megascolides australis), der kan måle over 2 meter!
Der er stadig en del myter omkring regnorme. De to klassiske af slagsen er beskrevet her:
Kan en regnorm drukne?
Det er en gammel myte at regnorme kommer op til jordens overflade når det regner for at undgå at drukne.
I virkeligheden kommer de op til overfladen når det regner (især i foråret), så de kan bevæge sig over land. De fugtige forhold giver nemlig regnormene en chance for at sprede sig hurtigere til nye steder. Regnorme ånder gennem huden, men det kræver at huden er fugtig for at ilten kan passere gennem den. Regnorme kan overleve i flere uger under vand, hvis der er tilstrækkelig ilt i vandet.
Kan regnormen leve videre, hvis man kommer til at hakke den midt over med spaden?
Det var tidligere en udbredt myte, at en regnorm bliver til flere, hvis den hakkes over. En regnorm kan faktisk godt overleve at blive skåret over, hvis man skærer bag dens bælte (clitellum), men kun den forreste del kan overleve. Forenden kan, hvis forholdene (temperatur m.v.) tillader det, restituere sig, men i så fald ligger ormen i flere måneder inaktiv. Det tager alvorligt på kræfterne. Hakkes ormen over midt i bæltet vil begge halvdele dø.
Kilder: learner.org, Wikipedia