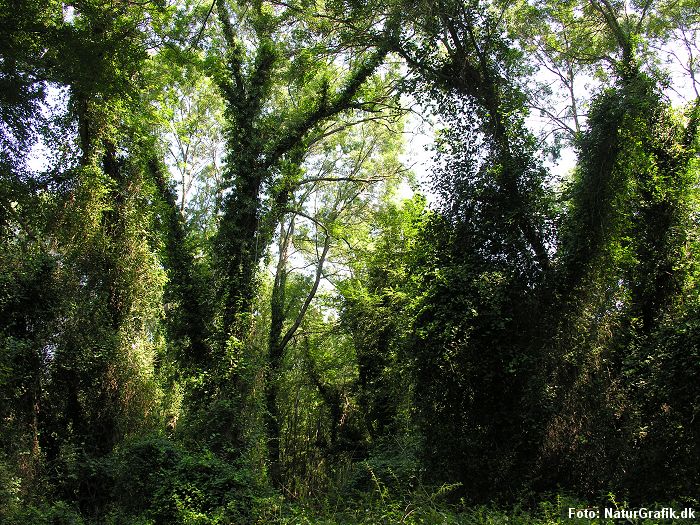 Hen på efteråret begynder det at blive småt med nektar til de sidste insekter, men det afhjælper den stedsegrønne vedbend. Det er nemlig nu, at den blomstrer til glæde for mange insekter.
Plante med Klatrerødder.
Mange forbinder vedbend med have- eller stueplanter og kender den under navnet efeu. Og der findes da også et utal af dyrkede og forædlede sorter af vedbend. Den naturligt hjemmehørende hedder Almindelig vedbend (Hedera helix). Den findes i de vintermilde egne af Vesteuropa og er almindelig i store dele af Danmark, særligt i Østdanmark. Og de steder den vokser er det til stor glæde for insekterne. Når vedbend blomstrer holdes der nemlig fest for insekterne. Med sine mange og nektarrige blomster holder planten åbent hus på de korte efterårsdage og ofte varer festen helt ind i starten af vinteren. På steder hvor det ikke synes muligt klatrer den stedsegrønne slyngplante sig til tops. Som andre planter skal den nemlig have lys. Vedbend er udstyret med fantastiske klatrerødder, der gør det muligt at bestige både lodrette mursten og glatte bøgetræer.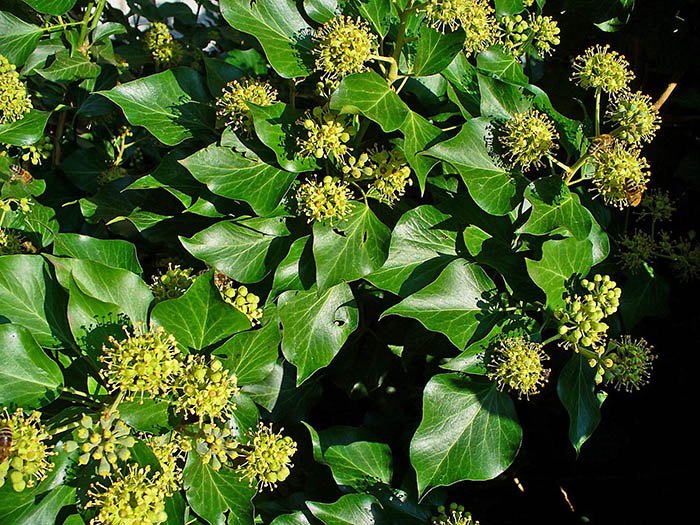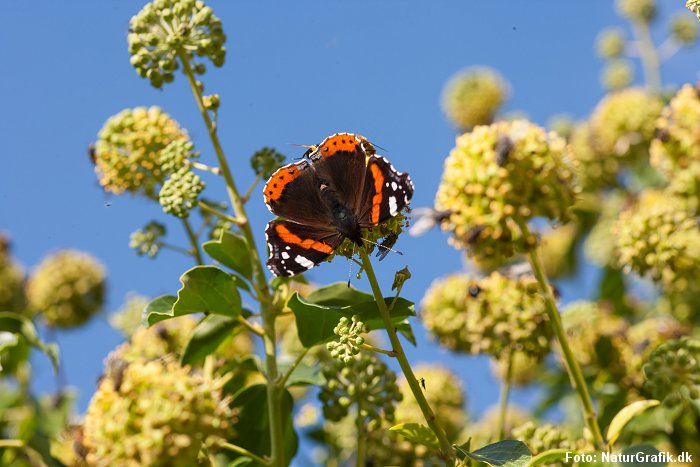 Giftig plante som renser luften.
For omkring 28 år siden testede NASA omkring 40 plantearter, her i blandt Vedbend. Målet var om planterne kunne rense luften for uønskede, farlige stoffer. Her viste Vedbend at have en positiv effekt. De forholdsvis ældre forskningsresultater holder stadigvæk stik. Ifølge Majbrit Dela Cruz fra Institut for Plante- og Miljøvidenskab, Københavns Universitet, som selv har testet blandt andet Vedbend, fortæller, at planten har en luftrensende effekt.
Almindelig vedbend er ellers giftig. Særligt bærrene og de blomstrene skud er giftige for mennesker da de indeholder en høj mængde af giftige saponiner. Resten af planten er også giftig dog i mindre grad. Til trods for at planten er til stor nytte for mange insekter og kan være luftrensende, har man inden for de seneste år fundet ud af, at Vedbend kan virke allergisk for nogle mennesker, her i blandt gartnere.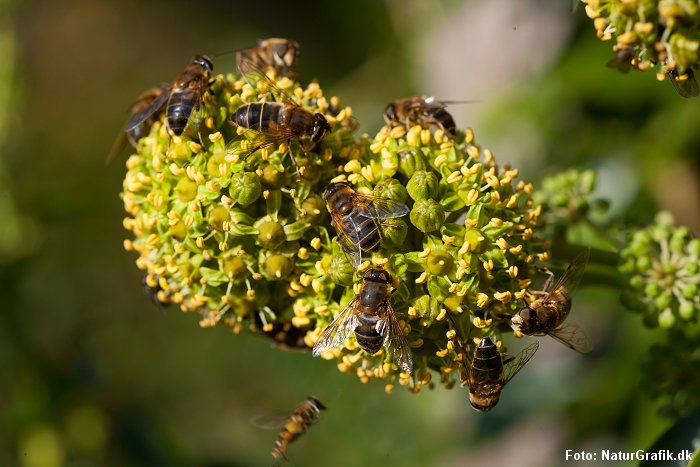 Vidste du;
At Almindelig vedbend kan blive op til 30 cm, hvor det nederste af planten eller stammen kan have en diameter på 25-30 cm?

At den kun blomstrer fra klatrende skud som er nået op i en vis højde?

At vedbend på huse holder muren tør og virker isolerende, så varmetabet fra huset kan reduceres med op til 10 %?

At de blomstrede skud ikke har klatrerødder, men er sidegrene til almindelig skud?

At artsnavnet helix kommer fra det græske helisso som betyder "jeg snor mig"?

At navnet vedbend betyder træ-bånd og at Efeu er et tysk navn?

At man i den klassiske oldtid udsmykkede tempelsøjlerne med vedbendranker?

At planten var symbol på lystighed, samvær og udødelighed?
MR/
Kilde: Naturhistoriskmuseum.dk, fugleognatur.dk, dr.dk, nasa, politikken.dk