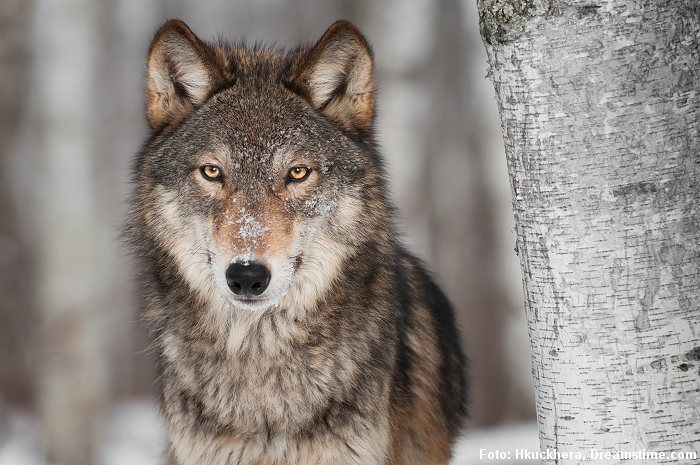 Der er foretaget gentagne optagelser af et formodet ulvepar i Vesjylland. Det oplyser Naturhistorisk Museum og Aarhus Universitet i en pressemeddelelse.
Siden den første dokumentation for ulvens genindvandring til Danmark i 2012, er der dokumentation for at yderligere tre hanulve har opholdt sig i landet ud fra DNA-profiler. Dertil kommer en række billeder og vildtkamera-fotos af uidentificerede enlige ulve, som dog undertiden har kunnet bestemmes til køn: Alle hanner!
Enlige hanulve er helt i tråd med det, som man skal forvente langs grænsen til en bestand i vækst, idet unge hanner typisk vandrer længere end unge hunner efter at have forladt deres fødested.
Indicier for ulvepar.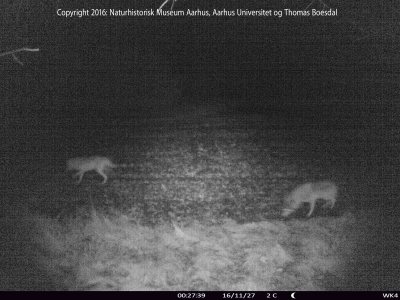 I løbet af efteråret og vinteren 2016-17 har der imidlertid været adskillige uafhængige rapporter om to ulve (en stor og en mindre), som har været observeret sammen i det vestlige Jylland. Vildtkameraer opsat for Naturhistorisk Museum Aarhus og Aarhus Universitet har vinteren igennem foretaget optagelser, der gentagne gange afslører to formodede ulve. Selv om tilstedeværelsen af et ulvepar må betegnes som sandsynligt, understreger forskningsansvarlig Kent Olsen, Naturhistorisk Museum og seniorforsker Peter Sunde, Aarhus Universitet, at det endelige helt sikre bevis stadig mangler.
Beskeden indflydelse på vildtbestanden.
I følge forskerne vil en ulvefamilies tilstedeværelse næppe få større indflydelse på de lokale vildtbestande. Foreløbige undersøgelser udført af Aarhus Universitet og Naturhistorisk Museum i Tyskland og Danmark tyder heller ikke på, at lokal tilstedeværelse af ulve har synderlig effekt på hjortevildtets bevægelser og adfærd.
Er der grund til at være bange for ulvene?
Absolut ikke, siger forskerne. De to formodede ulve udviser præcis den adfærd, som man ønsker, at de skal have: De er primært aktive om natten, undgår mennesker og stikker af, når de møder nogle.
/MR
Kilde: Pressemeddelelse fra Naturhistorisk Museum.