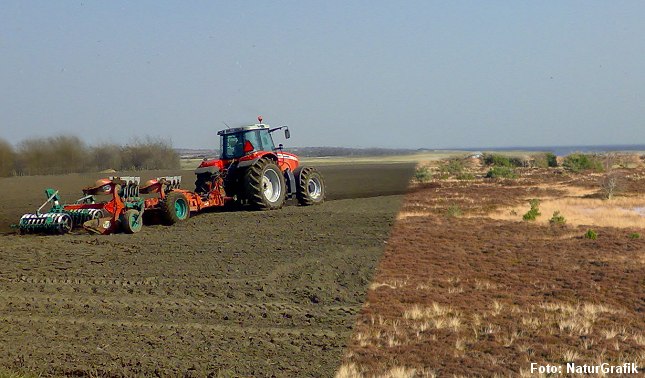 Beskyttede naturområder forsvinder.
Da amterne blev nedlagt overtog kommunerne tilsynet med de beskyttede naturområder i Danmark. Nu viser en ny rapport at flere tusinde naturarealer er forsvundet.
En ny rapport fra Naturstyrelsen viser, at mange naturområder som burde være beskyttet af den såkaldte §3-beskyttelse er forsvundet. Det drejer sig om flere tusinde arealer som i de fleste tilfælde enten er blevet bebygget eller opdyrket. Det er en beskyttet natur som er under pres og tilsyneladende bliver det ikke kommunerne som giver den tiltrængte håndsrækning. I hvert fald ikke hvis man spørger i Jammerbugt kommune. Her drejer det sig om 587 beskyttede steder eller 688,5 hektar som enten er blevet bebygget eller opdyrket.
Jens Christian Golding som er formand for teknik- og miljøudvalget i kommunen mener ikke at det er kommunens opgave at jagte de lodsejere som har brudt naturbeskyttelsen.
Golding mener endvidere, at hele naturbeskyttelsen virker tilfældig som om nogle bare har trukket nogle streger over landskabet og derved besluttet af her skal være §3-jord. Ifølge Jammerbugt kommune vil det kræve to personer i fem år for afdække omfanget.
Planter afgør naturbeskyttelsesstatus.
Et område får § 3-status, dvs. beskyttelsesstatus efter naturbeskyttelsesloven, ud fra hvilke karakterplanter der vokser på arealet. Vokser der f.eks. planter som hedelyng, klokkelyng og lyngsnerre på flader større end 2.500 m2 vil arealet typisk have hedekarakter og være beskyttet mod opdyrkning. Dog med mulighed for at søge dispensation hos kommunerne.
Andre karakterplanter kan afgøre om der er tale om en mose, fersk eng, overdrev eller strandeng. Disse naturtyper er også omfattet af naturbeskyttelsesloven, hvis de i areal er større end 2.500 m2.
For Jammerbugt Kommune kan det dog være sin sag at se gennem fingre med at kommunens naturområder mindskes. Jammerbugt Kommune er nemlig i høj grad en kommune, der har fordel af turismen. Og turisterne, ja de vil have natur i følge en undersøgelse fra VisitDenmark.
MR/
Kilde: dr.dk