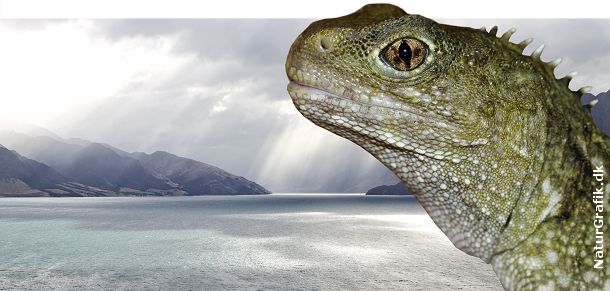 NaturGuide.dk forsætter serien af en række små fotoreportager og rejsefortællinger fra naturens verden i det store udland.
Tuataraen – et fortidslevn
På den anden side af jordkloden ud fra New Zealands nordøst-kyst findes nogle mindre new zealandske øer med en helt særlig beboer: Tuataraen! Tuataraen er en øgle, der på alle måder er helt sin egen. "A living fossil" som nogle af de lokale udtrykker det. Og der er noget om snakken! Tuataraen tilhører krybdyrordenen Rhynchocephalia, der inkluderer fortidskrybdyr, der uddøde for 200 millioner år siden. De sidste slægtninge af Rhynchocephalia-ordenen forsvandt fra jorden for omkring 60 millioner år siden. Der findes kun én art tilbage: Tuataraen, der endnu holder stand på den lille New Zealandske ø-gruppe som det sidste sted på jorden.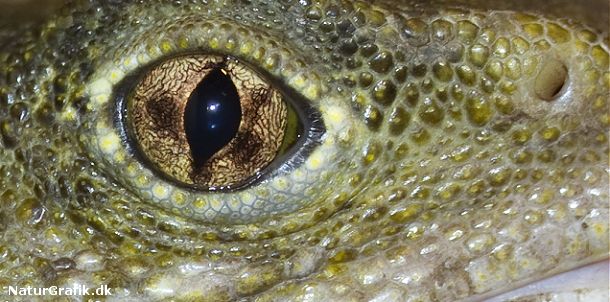 Ligner en drage med to rækker spidse tænder.
Tuataraen ligner det tætteste vi kommer på eventyrernes drager med kløer, lang hale og et stort hoved med spidse tænder. Dens tandsæt, hvor to rækker af tænder i overkæben overlapper en række på underkæben, er enestående blandt levende arter. Øglen kan måle op til 80 cm og blive mere end 50 år gammel. New Zealands oprindelige befolkning maorierne gav den navnet "tuatara" hvilket betyder "pigge på ryggen".
Tre øjne.
Tuataraen er speciel ved at den har et 3. øje midt i hovedet. Øjet er fuldt udstyret med linse og optiske nerver. Øjet dækkes med alderen af skæl og det er derfor uklart om øjet tjener nogen særlig funktion.
Tekst og foto af Niels Dahlin Lisborg, der har besøgt New Zealand og tuataraen i 2010.