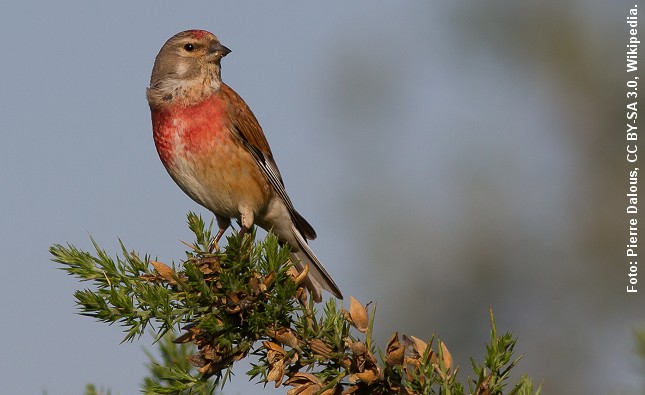 Tornirisken, der flygtede ind i terrassedørens spejlbillede.
Af Marianne Riis.
"Bump" lød det en dag på terrassedøren. Til min store ærgrelse var det tornirisk-hannen, der var fløjet imod terrassedøren. Jeg kom ud tids nok til at se årsagen. Over haven fløj spurvehøgen væk med en hale af ophidsede svaler efter sig. Høgen havde indledt et af sine pludselige overraskelsesangreb. Som et lavt fly stryger den henover jorden og pludselig er den der! Småfuglene panikker til alle sider – og det var altså her at "min" tornirisk denne gang skæbnesvangert tog flugten mod terrassedørens spejlende billede.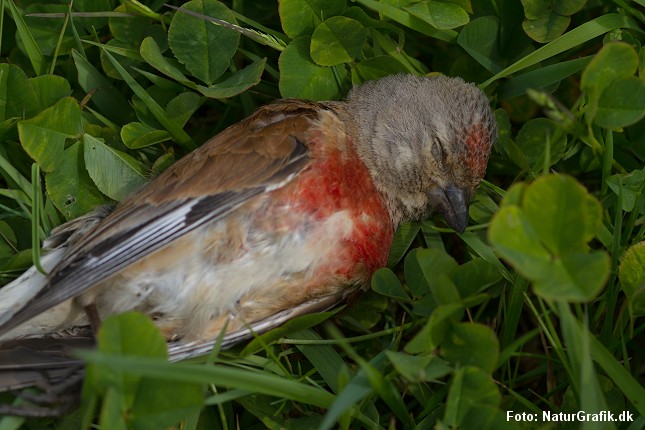 Sommeren igennem har jeg haft fornøjelsen af to tornirisker, der har bygget rede i hækken. De fine finker, der er lidt mindre end skovspurven, har været aktive og fra terrassen har jeg fulgt hvordan de fortravlet flyver til og fra reden med føde til de krævende unger.
Tornirisken var død. Min ærgrelse var dobbelt. Høgen kunne lige så godt have fået glæde af den kønne finke – og reddet lidt mad til sine egne sulte unger et sted ovre i de tætte graner. Nu var det bare spild. På den baggrund besluttede jeg at fotografere den smukke fugl – og lave en lille artikel til NaturGuide.dk. Der er sikkert andre end mig, der kan betages af så køn en lille fugl…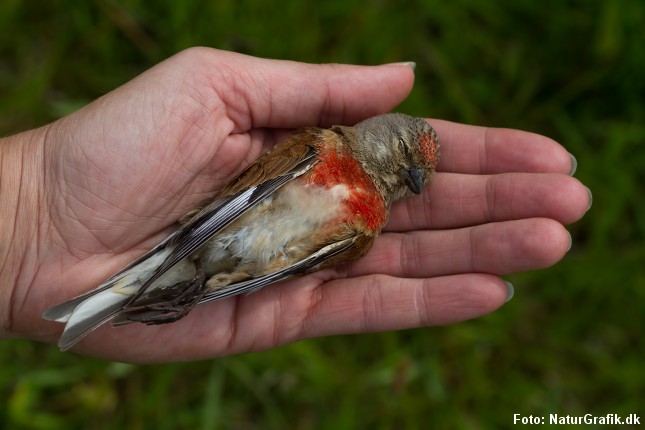 [quote_box_center]
FAKTA OM TORNIRISKEN
Tornirisken er almindeligt udbredt i Danmark i det åbne land, selvom den ikke er så talrig som tidligere. Fuglen lever primært af frø som den finder på jorden på marker, enge og heder med kort vegetation.
Tornirisken er kun på visit i det danske sommerland. Vinteren tilbringer den længere mod syd i det sydvestlige Europa – eller måske endda helt i Nordafrika.
Som så ofte hos fuglene er det hannen, der har den smukkeste farvedragt. Tornirisk-hunnen er beskeden grå, men hannen har et intenst rødt bryst og en rød plet i panden.[/quote_box_center]