Miljøministeriet skærper kravene: Det bliver sværere at få jagttegn.
Nye jægere skal fremover kunne dokumentere deres evner til at ramme plet med haglgeværet, før de kan gå på jagt. Baggrunden er at der er for mange anskydninger, hvor vildtet ikke dræbes i skuddet. Flere end hver femte kortnæbbet gås lever med hagl i kroppen, fordi jægeren ikke har ramt plet, oplyser Naturstyrelsen.
"Det er helt uacceptabelt, at så mange dyr og fugle lever med hagl i kroppen. Nye jægere skal være bedre til at ramme plet og have en større viden om naturen", siger miljøminister Ida Auken. Skydefærdighed bliver derfor et obligatorisk krav for at bestå prøven til jagttegn.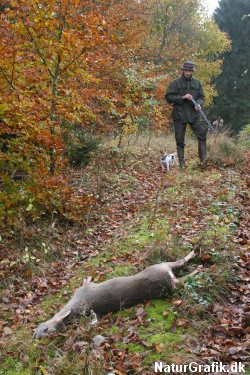 Større krav til naturkendskab og vildtets biologi.
Kritikkere af den gamle jagtprøve hævder at jægere hidtil kun behøver at have et lille kendskab til vildtarterne for at bestå prøven til jagttegn. Ofte kan man udenadslære arterne i prøvematerialet f.eks. ved at musvågen kigger den ene vej på billedet og duehøgen den anden vej o.s.v. Det skal den nye jagtprøve lave om på. "Fremover vil der være udvidede krav til jagttegnsaspirantens viden om vildtets biologi, jagtteknik og kendskab til natur- og vildtpleje. På den måde får vi nogle mere velforberedte, ansvarlige og skarpere jægere", siger miljøminister Ida Auken.
Jægernes organisation hilser de nye krav velkommen.
I Danmarks Jægerforbund ser man frem til, at den 50 år gamle jagtprøve bliver opdateret.
"Vi ser både unge og gamle, kvinder og mænd, som gerne vil gå på jagt, men hvor jægerhåndværket før gik i arv fra generation til generation, så er mange nye jægere i dag ikke nødvendigvis fra et hjem med riffel eller haglgevær. Vi er derfor glade for, at uddannelsen bliver opkvalificeret, så der bliver endnu mere fokus på de færdigheder, der er nødvendige for at blive en dygtig jæger", siger jægerforbundets formand Claus Lind Christensen.
I Danmark har ca. 173.000 jægere gyldigt jagttegn. Den nye, skærpede jagtprøve forventes klar i foråret 2014.
Kilde: Naturstyrelsen.