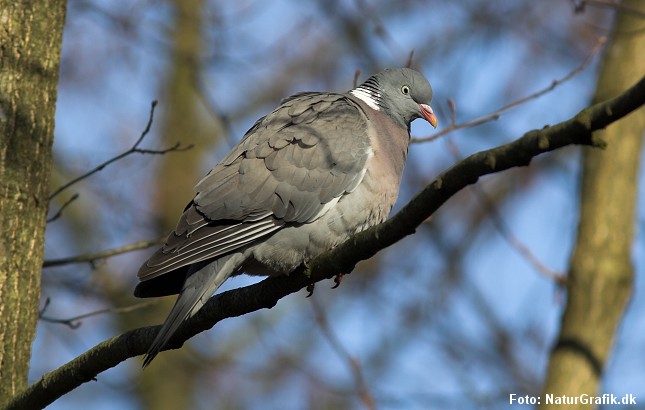 Skovduer med klappende vinger og forårsfornemmelser i februar.
Februar kan være kold og uforudsigelig. Det afstår dog ikke flere fuglearter fra at have forårsfornemmelser. Korsnæbbet har allerede æg i reden, men også vores velkendte skovdue har opdaget at dagene er blevet længere.
Skovduen, hedder egentligt officielt ringdue (Columba palumbus), navngivet efter sin hvide halspletter, der næsten danner en ring. I byer og parker er skovduen tillidsfuld, men i skoven og det åbne land er den sky og vagtsom. Bedst som man går i egne tanker i den stille skov flakser en due pludselig højlydt og eksplosivt mellem træerne med larmende, klappende vinger. Ikke mange fugle kan larme som en skovdue, der letter fra sin gren. Har man først lært sig lyden af de klappende, baskende vinger er det let at erkende at "der lettede en skovdue" uden at kunne se selve fuglen.
Der er mange ting, der gør skovduen til noget særligt. Mange skovgængere vil genkende den velkendte kurren, der kan høres store dele af året.
Hør skovduen her: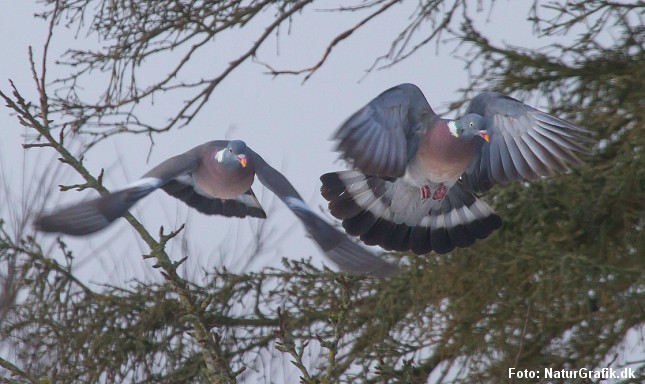 Bygger rede allerede i februar.
Allerede i februar er skovduen på udkig efter en mage og skovdue-hannen begynder at flyve parringsflugt, hvor han flyver næsten lodret op, mens han klapper højlydt med vingerne, hvorefter han på stive vinger lader sig falde i en bue nedad, indtil han igen går i vejret.
I milde vintre kan skovduen begynde at lægge æg allerede midt i februar.
Vidste du, at
Duerne er de eneste fugle, der kan lukke næsebroerne og derved er i stand til at suge vandet op.
Skovduereden – den simpleste af fuglereder
Skovduens rede er hverken kunstfærdug eller kompleks. Duereden hører til en af de simpleste reder vi kender fra den hjemlige fugleverden. Ofte består reden kun af nogle få kviste på kryds og tværs. Lige nok til at holde på to hvide dueæg.
Ungerne fodres med duemælk.
Den første uge af dueungernes liv fodres de af forældrefuglene med duemælk. Duemælk er et fedt- og proteinholdigt sekret, der produceres i kroen hos de voksne duer.
Når rugetiden er ved at være afsluttet, begynder indervæggen i forældrenes kro (en udposning på spiserøret) at udskille en den tyktflydende duemælk. Dueungen stikker sit næb op i forældrefuglens gab og indtager det opgylpede duemælk.
Det hormon som styrer produktionen af duemælk er det samme som det, der styrer mælkedannelsen hos pattedyr.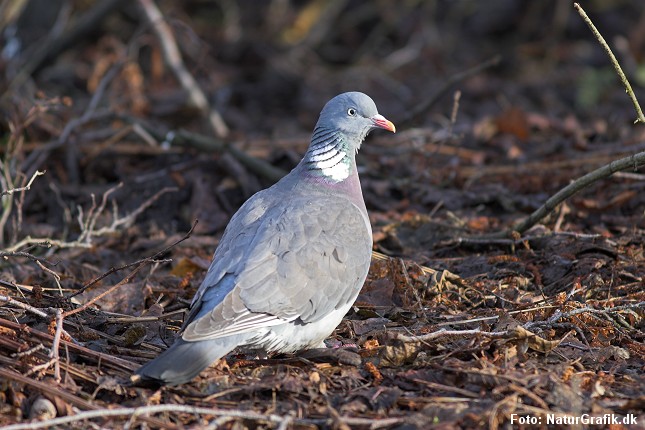 Kilder: dof.dk, wikipedia, Fugle i Danmark/Meltofte og Fjeldså. Lydoptagelse: Volker Arnold, xeno-canto.org.