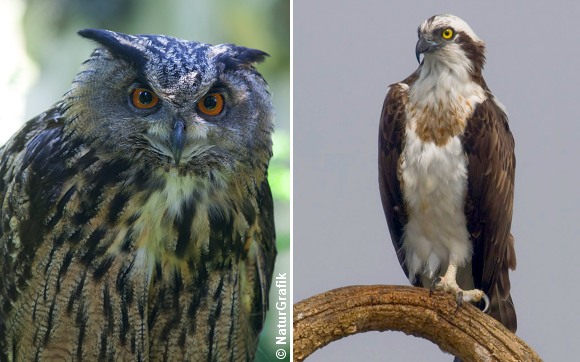 Tre fiskeørneunger dræbt.
Europas største ugle, stor hornugle, har de senere år bredt sig i Jylland, hvor den endnu er sjælden med få ynglepar. Nu har en stor hornugle angrebet og dræbt 3 fiskeørneunger i det nordvestlige Jylland. Ynglende fiskeørne er endnu sjældnere i Danmark end den store hornugle. I 2013 er der således kun registreret 3 ynglepar af fiskeørn i hele Danmark.
Resterne af ørneungerne blev fundet i nabolaget og ved at studere levningerne, kan det konstateres at det er en stor hornugle, der har været på spil. Kæmpeuglen har formentlig angrebet ungerne på reden i ly af natten.
Første hold fiskeørneunger på vingerne
I Vandmosen i Grib Skov i Nordsjælland er det dog nu lykkedes Sjællands eneste fiskeørnepar at få unger på vingerne. For få dage siden lettede fiskeørnenes to unger fra reden og kan nu ses flyve rundt i området. Ungerne fodres stadig af forældrefuglene, der endnu bringer fisk til reden.
Det andet resterende, danske fiskeørnepar yngler ved Klosterheden nær Lemvig i Vestjylland. Her tegner det også til at der kommer to unger på vingerne i år.
Fiskeørnene trækker til det sydlige Afrika til september
De danske fiskeørne ventes at trække til Afrika syd for Sahara i løbet af september. Det er normalt hunnen, der først trækker mod syd, mens hannen og ungerne, en efter en, senere følger efter. Hornuglen, derimod – den bliver vinteren igennem og holder sin position som nattens fyrste.
Kilde: DOF.dk, Frederiksborg Amts Avis.