Tilpasset til et liv i vandet
Odderen (Lutra lutra) var i løbet af 1900-tallet tæt på at blive udryddet i Danmark og blev tidligere betragtet som det mest truede pattedyr i Danmark. I dag er odderen udbredt i det meste af Jylland og er særlig talrig omkring Limfjorden og Vejlerne.
Som en særlig tilpasning til livet i vand har odderen svømmehud mellem tæerne. Den er en hurtig og adræt svømmer, der kan fange fisk i vandet. Kroppen er lang og strømlinet. Odderens næsebor kan lukkes når den dykker.
Som oftest er odderen nataktiv, men kan også opleves i dagtimerne i mere uforstyrrede naturområder. I vinterhalvåret, hvor søer og langsomt-løbende vandløb fryser til is, kan odderen opleves henover isen – af og til glidende på maven. Den benytter de åbne våger i isen til at dykke efter føde.
Odderens fantastiske pels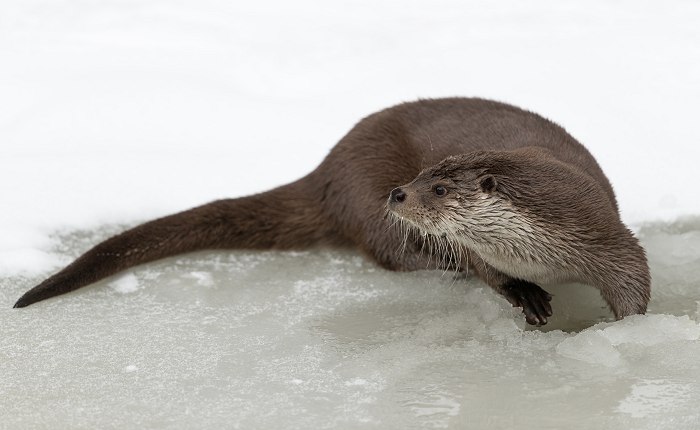 Odderens pels har på grund af den usædvanlige struktur en særlig virkningsfuld isolering mod kulden og det iskolde vand.
Pelsen består af to lag, et indre uldlag, der er blødt og tæt, og et ydre lag af tætsiddende dækhår. Indtil 50.000 hår per kvadratcentimeter. Hårene i pelsen er, som i en lynlås, forbundet med mikroskopiske små kiler, der griber ind i hinanden.
Pelsens dækhår er vandskyende, og den tætte underuld isolerer mod kulden.
Odderen har ikke et tykt isolerende spæklag som f.eks. sæler, isbjørne og hvaler. Til gengæld har odderpelsens tykke underuld isolerende luftbobler, der medvirker til at afvise vandet – og dermed kulden.
Øjne og næsebor sidder højt på hovedet (næsten som en krokodille), så den kan have sanserne over overfladen når den svømmer.
Kan veje mere end en ræv
Som det også gælder hos mårdyrene er hannerne større end hunnerne og en stor han-odder kan veje mere end en voksen ræv.
/MR
Kilder: Miljøstyrelsen, dn.dk, Naturhistorisk Museum, Wikipedia. Featured foto: Wkruck, Dreamstime.com.