Byg en let og hurtig bivuak – og overnat i det fri.
Flere og flere af statens skove udlægges til områder, hvor der må teltes frit – d.v.s. uden først at spørge om lov, hvis man vil overnatte i skoven. At overnatte inde imellem skovens træer er en fantastisk oplevelse. De færreste danskere har prøvet det, men det er en fantastisk mulighed for en intens oplevelse, hvor alle naturens elementer kommer tæt på.
Man behøver ikke et dyrt telt for at overnatte i det fri. Det er nemt og hurtigt at bygge en bivuak. Se her hvordan:
Det skal du bruge:
To grønne, letvægts-presenninger, der kan købes i de fleste byggemarkeder. Vi bruger gerne standardmålene 2,5×3,6 m til oversejl mod vejr og vind – og en mindre presenning 1,7x2m til underlag i bivuakken. Disse størrelser passer ca. til en 2-mandsbivuak med plads til rygsæk m.m. Samlet pris er under 20 kr.
Noget snor og et stykke reb, ca. 4-5 meter. Husk også en dolk til at skære snor og snitte grenpløkker.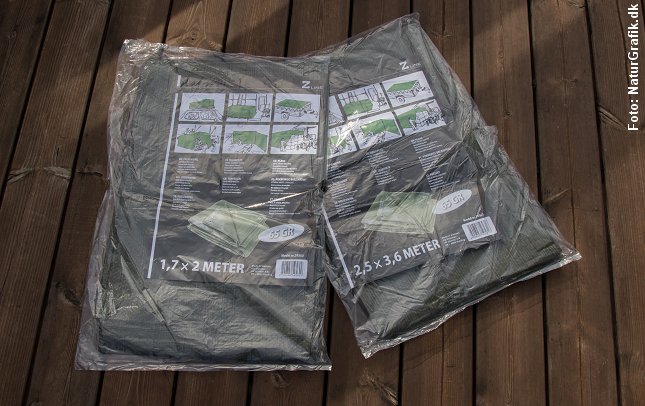 Sådan bygger du en bivuak på 5 minutter.
Find et egnet sted med et nogenlunde plant underlag, afsides fra skovveje og stier, hvor I kan ligge i fred og ro. Udvælg to træer med en afstand på 3-4 meter og bind rebet fast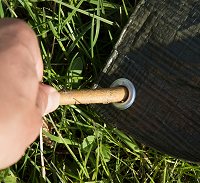 mellem de to træer i ca. 120 cm højde.
Hæng dernæst den største presenning over rebet som et telt – og spænd presenningen stramt ud ved skovbunden. Enten ved at bruge grene som pløkker gennem presenningens øjne eller brug snor, der bindes til nærtstående træer og buske.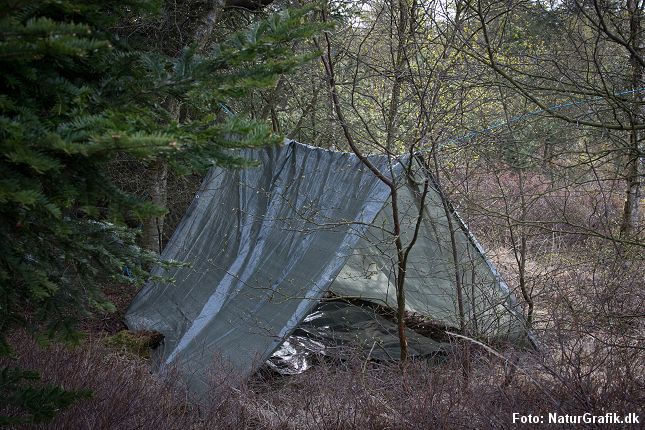 Vær opmærksom på vindretningen!
Som regel er vestenvind fremherskende. Bivuakens åbninger bør ikke vende mod vinden.
I vindsiden bør presenningsdugen nå helt ned til jorden for at undgå træk.
Læg den mindste presenning ind i bunden af bivuaken som liggeunderlag. Buk gerne kanten op så vand ikke kan løbe ind, hvis det skulle begynde at regne i løbet af natten. Det gøres lettest ved at folde kanten over nogle tykke grene, men snor og grenpløkker kan også bruges.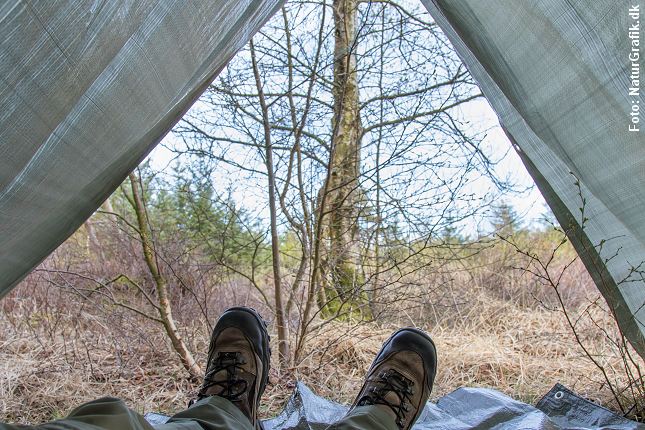 Vejer under 1 kg.
Fordelene ved denne bivuak-form er at den er vandtæt, hurtig at bygge – og let at nedtage igen. Materialerne kan genbruges mange gange. Den vejer desuden næsten ingenting, under 1 kg, og materialerne er derfor lette at transportere i rygsækken.
/NL