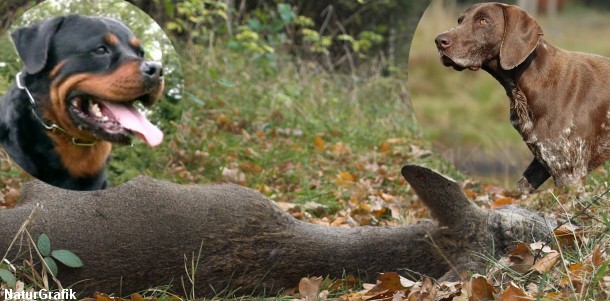 Løse hunde og angreb på husdyr.
"Fire får blev skambidt og to døde. Det er status efter to kamphunde mandag gik amok i blodrus og angreb otte får på en mark ved Ringsted". Sådan lyder en overskrift fra TV2 ØST. En hurtig søgning på internettet viser at historierne ikke står alene. Se andet eksempel fra Midtjylland her.
Vil ulven blive syndebuk?
Selvom om hundeangreb på husdyr i Danmark er et kendt fænomen, vil pilen måske i fremtiden nok ofte pege på ulven efter den i 2012 genindvandrede til landet. Det kan være meget svært at skelne om det er hund eller ulv, der står bag et angreb. Fakta er dog, at løse hunde i naturen – eller hunde, der angriber husdyr, er et problem, der kendes overalt i den vestlige verden. Danske fåreavlere har i årevis haft kendskab til problemer med hunde, der angriber får – længe før ulven kom tilbage.
Den 25. februar 2013 fik Danmark sit første ulveangreb på husdyr i 200 år. 8 får blev fundet dræbt på en mark syd for Herning. Historien gik landet rundt med efterfølgende stor debat i medierne for og imod ulven.
I samme måned, kort forinden, blev en "labradorlignende" hund set jage på egen hånd – også i Herningområdet. Hunden angreb og skambed et stykke råvildt. Det skriver Jaegernesmagasin.dk med en øjenberetning til episoden.

Løse hunde i naturen er et stigende problem.
Googler man f.eks. "skambidt rådyr" eller "problemer med løse hunde" dukker der masser af eksempler op på nettet med løse hunde, der jager på egen hånd uden kontrol af deres ejer. Naturstyrelsens lokalenheder oplever da også jævnligt problemer med løse hunde i naturen. Det samme gør mange private skovejere.
Lovgivningen skærpet.
Løse hunde, der angriber vildtet er dog desværre langt fra et nyt fænomen, således fik stigende problemer med løse hunde, der skambider vildtet i 2010 det resultat, at hundeloven blev skærpet. Naturstyrelsen konkluderede, at kampagner, information og henstillinger ikke havde virket. I følge naturbeskyttelsesloven skal hunde føres i snor når man færdes i naturen. En overtrædelse koster 2000 kr i bøde!
Se også: "Dyrere at "glemme" hundesnoren.

Se også: "Vilde hunde angriber barn i Sibirien – ulve får skylden i medierne".
Kilder: jaegernesmagasin.dk, Naturstyrelsen.