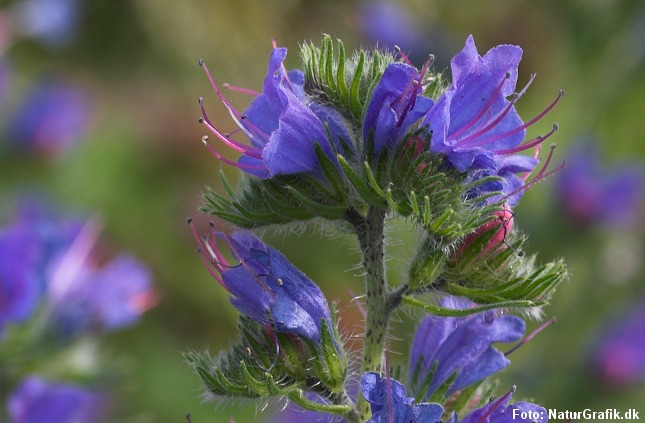 Planten slangehoved som middel mod slangebid.
Den smukke, blå blomst slangehoved (Echium vulgare) ses i sommerlandet hist og her på tørre marker, overdrev og langs vejkanter. Det er egentlig en sydligere art, men den er alligevel ret udbredt hist og her i Danmark.
Signaturlærens medicinsk-filosofiske forestilling.
Tidligere var det praksis at planten blev brugt mod slangebid. Plantens blomster med fremspringende støvveje kan med god vilje minde om et slangehoved med tunge. Også plantens frø blev angivet til at have lighed med et hugormehoved og i følge signaturlæren, der var fremherskende fra middelalderen og flere hundrede år frem, var denne lighed et tegn fra Gud om plantens virkning.
Signaturlæren tog udgangspunkt i den medicinsk-filosofiske forestilling, at naturligt forekommende lægemidler fra planter og dyr bærer et tegn, en signatur, som angiver den medicinske virkning.
Folkemedicin gennem århundreder.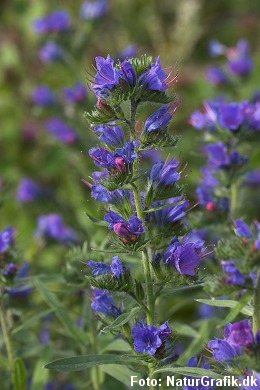 Slangehoved har i Europa været brugt som folkemedicin i århundreder. Gud satte planter på jorden af hensyn til mennesket og angav deres brug med en identificerbar tegn. Den engelske herbalist William Cole (1626–1662) beskrev planten som et enestående middel mod slangegift og skorpionstik i sit værk "The Art of Simples" fra 1656 (lægeurter blev kaldt simples). I dag ved vi at en enhver virkning planten måtte have på et slangebid alene skyldes placebo-effekten. Tro kan som bekendt flytte bjerge.
Slangehoveds latinske navn Echium kommer angivelig vis af det græske Echis, der betyder hugorm.
Nyd den smukke plante næste gang du ser den – og send en tanke til de af vores forfædre i en fjern fortid, der blev "behandlet" af den himmelblå blomst efter et uheldigt møde med en af Europas giftslanger.
/NL
Kilde: luontoportti.com.