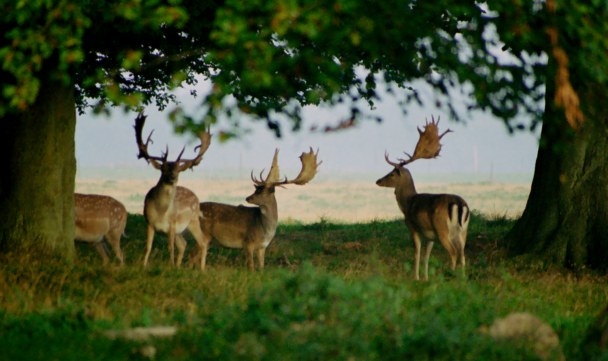 Hjortebestanden i Storbritannien har ikke været større siden istiden.
I England er hjortebestanden større end nogensinde. Forskerne vurderer at i perioden fra sidste istid til nu har hjortevildtbestanden aldrig været større. Bestanden af hjortevildt er nu så omfattende at det går hårdt ud over skovområder samt udgør en alvor trussel for mange vilde blomster og fuglearter. Hjortebestanden er anslået til 1,5 millioner dyr, og det skaber et så stort pres på naturen og andre dyrearter, at forskere nu anbefaler, at bestanden halveres.
Forskere anbefaler at skyde 750.000 stykker hjortevildt om året.
Undersøgelser fra bl.a. University of East Anglia viser at mellem 50 og 60 procent af hjortevildtbestanden bør fjernes for at sikre en passende stabil hjortebestand i balance med omgivelserne. Storbritannien har ingen større rovdyr som f.eks. ulve til at holde bestanden nede og skal jægerne klare opgaven skal der skydes anslået 750.000 stykker hjortevildt årligt.
Jægere er skeptiske.
Selvom man skulle tro at jægerne tog godt imod forskernes anbefalinger, er der alligevel mange, der er skeptiske. Jagt er blevet en industri og mange hjorte – og tilmed forskellige hjortearter er godt for jagtturismen. Indtægten fra jagt holder hoteller, bed & breakfast, forretninger og skoler åbne, hævder skytter og jagtarrangører i Skotland.
Fire importerede hjortearter.
Blandt de seks arter i de britiske skove er det kun to, rådyret og kronhjorten som er naturligt hjemmehørende i Storbritannien. De fire andre hjorteracer er importeret og sat ud i naturen – oprindeligt som jagtobjekter for adelen. Det gælder dådyr (der dog kan føres tilbage til det 11. århundrede) , sikahjorten fra Japan, indisk muntjak og senest kinesisk vandhjort, som kom til De Britiske Øer i 1920'erne.
/NL
Kilder: The Independent, Kristeligt Dagblad.