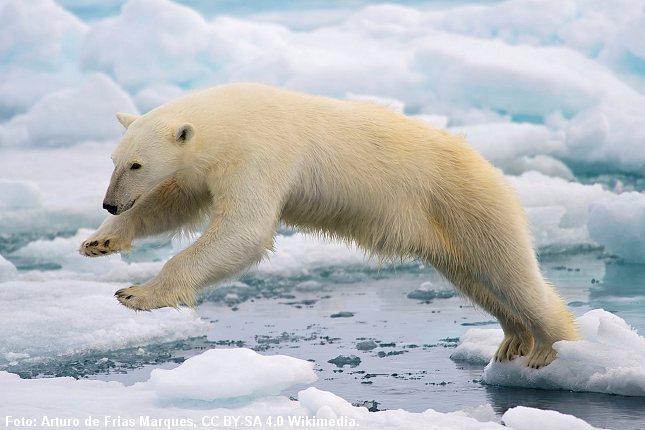 Isbjørnen skal lære at spise andet end sæler for at imødegå klimaforandringer. Forskningsundersøgelser tyder på at isbjørnene allerede har taget fat på forandringerne.
I takt med at klimaforandringerne accelererer kan nordamerikanske isbjørne blive nødsaget til at tilpasse deres kost og erstatte sæler med rensdyr og f.eks. snegæs som en væsentlig fødekilde. I takt med at havisen smelter forsvinder isbjørnenes grundlag for at fange deres vigtigste fødegrundlag; sæler.
"Isbjørne er opportunister, og siden de tidligste dokumenterede naturhistoriske optegnelser har det været kendt at isbjørne gerne æder forskellige typer og kombinationer af landbaserede fødevarer" siger Robert Rockwell fra American Museum of Natural History.
Planter som bjørnemad.
Analyser af isbjørne-ekskrementer og førstehåndsobservationer har vist forskerne, at unge isbjørne, isbjørnefamilier og endda nogle fuldvoksne hanner allerede har tilpasset sig ved at spise planter og landdyr under isfrie perioder, hvor isbjørnene ikke har mulighed for at jage sæler.
Tidligere undersøgelser har forudsagt at isbjørnene vil udsættes for massive sulteperioder når havisen en gang i fremtiden vil smelte og bryde op i større stil, så isbjørnene bliver adskilt fra deres is-jagtmarker, hvor sælernes jages.
Klimaprognoser har vurderet at om mindre end 50 år vil de isfrie perioder vare to måneder længere end i 1980'erne.
Forskerne, der har fulgt isbjørnene, vurderer, at der sandsynligvis er mere end nok kalorier til rådighed på landjorden til at brødføde sultne isbjørne i de forlængede isfrie perioder vi vil se i fremtiden. Det kræver dog at isbjørnene i takt hermed lærer at se sig om efter et nyt fødegrundlag. En proces, der i følge forskerne allerede er i gang.
/JN
Kilde: WildlifeExtra.com