Igen i denne vinter er der set nøddekriger over Danmark. Både på Sjælland og i Jylland. Fuglen er på vintervisit fra skovene i nord.
Nøddekrigen er en smuk, brun kragefugl på størrelse med en skovskade. Det er spættet med lyse pletter og vingerne er blåsorte. Om vinteren kan vi af og til opleve fuglen i Danmark når den er på træk fra de skandinaviske skove i nord.
To racer.
Nøddekrige (Nucifraga caryocatactes) tæller to racer. Der er den tyknæbbede nøddekrige som yngler i Europa og hvis føde næsten udelukkende består af hasselnødder. Den anden race er den tyndnæbbede nøddekrige som yngler i Sibirien. Her består føden især af frø fra cembrafyrren. Agern, insekter, hvirvelløse dyr og frø fra andre fyrretræer kan dog også findes på menukortet. Det gælder særligt i de såkaldte invasionsår. Her er der mange fugle i landet og kosten mere alsidig. I efteråret og vinteren 2016 er der set nøddekrige både på Sjælland, Bornholm og i Midtjylland.
Eminent hukommelse.
Nøddekrigen laver gerne mange og store depoter med føde om efteråret og har som mange andre kragefugle en god hukommelse. Ved hjælp af forskellige kendetegn som blandt andet træer, kan den ikke kun genfinde depoterne, men også huske hvilke der allerede er tømt. Det er ingen hindring, hvis depoterne er dækket af sne. Selv under et tykt lag sne kan nøddekrigen grave frøene frem. Det menes, at kragefugle kan huske tusinder af gemmesteder.
Nøddekrige-parret lever ikke kun af frøene i vintertiden, men også om foråret og i rugeperioden. Selv ungerne fodres delvis med frø fra depoterne.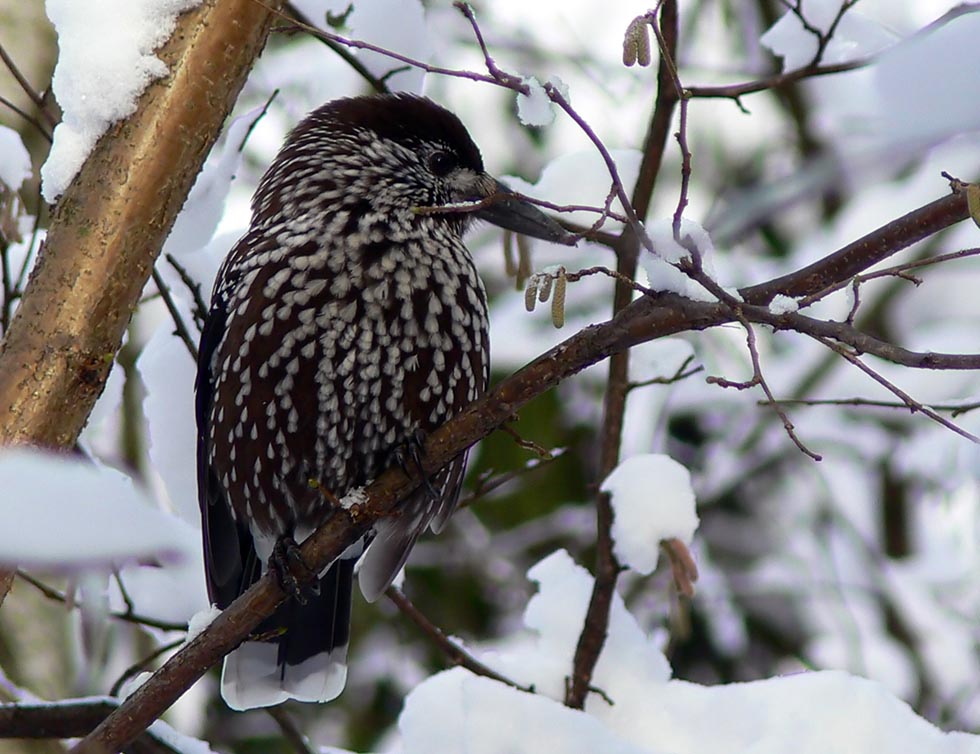 Danner par for livet.
Fuglene danner par for livet. I år med dårlig frøsætning ses der en udvandring fra yngleområderne. Det er kun i forbindelse med træk og søgning efter føde, at fuglene optræder i flok. Det kan føre til de såkaldte invasionsår, hvor begge racer kan ses talrigt i Danmark fra om efteråret. I 1968 var den største invasion i nyere tid af nøddekriger med mange tusinder over hele landet. Efterfølgende har der været mindre invasioner senest i 2008. Efter sådanne år viser statistikkerne, at et fåtal nøddekriger bliver og yngler i Danmark det efterfølgende år. De seneste år har man dog ikke med sikkerhed konstateret ynglepar herhjemme.
Vidste du;
At der er fundet en nøddekrige som har samlet 100.000 hasselnødder i sine depoter. Nødderne var samlet indenfor en afstand på 10 kilometer.

At nøddekrigens advarselsstemme er en langtrukken snurrende lyd.

At den tyndnæbbet nøddekrige har et lidt længere og tyndere næb end den tyknæbbede samt et bredere hvidt bånd på halespidsen.

At ordet nøddekrige kommer af det norske nøtteskrike som betyder nødde (frugt) skrige.
Fakta om nøddekrige:
Nøddekrigens kald lyder lidt som kragens kra-kra-kra, men er noget lysere.
Kragefuglen har et vingefang på 52-58 cm og er 32 cm lang.
Den bygger rede i februar i nåletræer.
Parret får et kuld unger om året bestående af 3-4 unger.
MR/
Kilde: Fuglene i Danmark fra Gyldendal, dofbasen.dk, naturegate, denstoredanske.dk