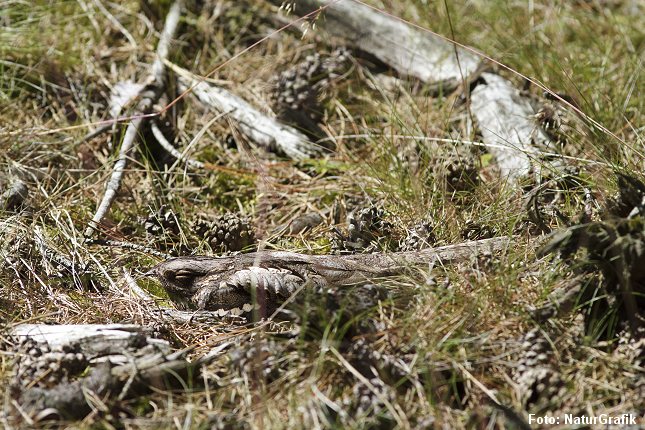 Tilfældigt møde med natravnen.
Af naturvejleder Niels Lisborg.
Nærmest ved en tilfældighed stødte vi på den. Sådan er det næsten altid. Pludselige fløj en natravn op som var den vokset op ad skovbunden. Den havde ligget helt stille og fast stolet på sin kamuflage – og med god grund! Natravnen er næsten umulig at få øje på.
Vi listede videre gennem plantagen. Det var en af de første, rigtige sommerdage, hvor solen har magt. Man kunne høre fyrrekoglerne knitre. De blev påvirket af sommervarmen. Turens formål var slet ikke natravne, men den fine linnæa-blomst, der skulle vokse et stykke inde i klitplantagen. Snart havde vi glemt alt om natravnen og var optaget af at fotografere nogle af skovbundens spændende planter – herunder en næsten afblomstret hjertebladet fliglæbe – en lille undseelige orkide, der havde fundet plads i nåleskovens halvskygge.
Uforvarende gensyn.
Senere på vej hjem, ad samme vej som vi var kommet, skete det igen! Natravnen fløj op for vores fødder samme sted som sidst. Så gik det op for os at det ikke var en tilfældighed! Vi havde uforvarende trængt os ind på natravnens rede. Og ganske rigtigt! For fødderne af os lå to halvstore unger. De var næsten lige så godt kamufleret som den voksne fugl. Helt musestille trykkede de til skovbunden. Jeg tog et par hastige fotos af de sagnomspundne natfugle – og lod herefter fuglene i fred.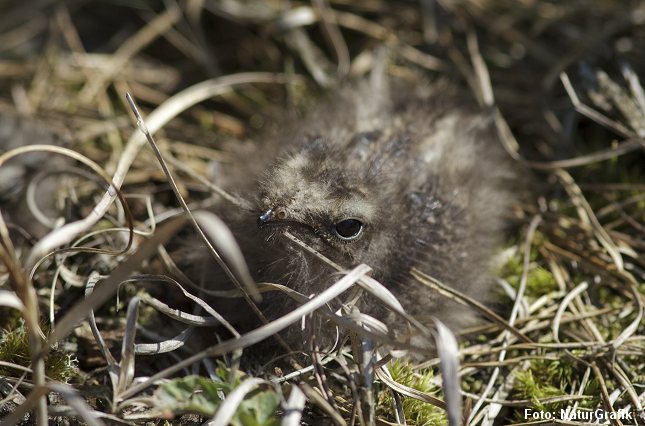 Forældrefuglen var ikke langt væk. En af de mange spøjse ting ved natravnen er at det er hannen, der overtager yngelplejen når de små er ca. to uger gamle. Derved kan hunnen med lidt held nå at lægge endnu et kuld unger.
Det er godt gjort at flyve fra tropisk Afrika og helt op til en vestjysk klitplantage for at nyde godt af den danske sommernats mange insekter.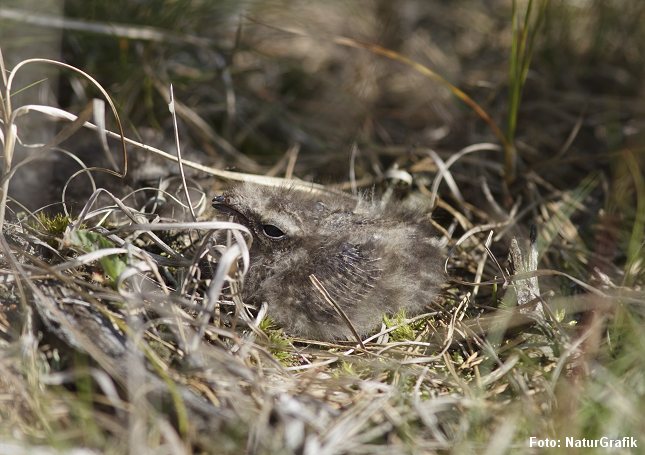 I nat vil det blive månelyst. En perfekt aften at tage ud og høre natravnens snurrende sang….