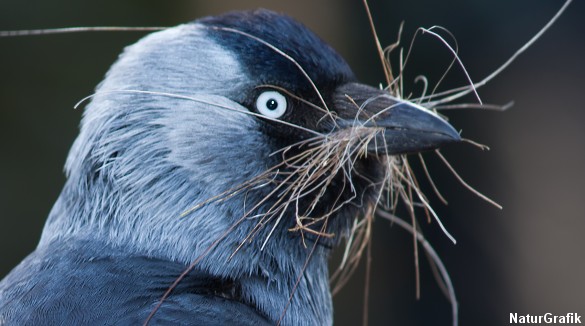 Alliker beskytter deres redested med et intenst blik.  
Det ser ud til at allikens intense, hvide – næsten lysende blik hjælper den til at holde artsfæller på afstand af redepladsen. Forskere fra University of Cambridge har undersøgt om den mørke kragefugls slående hvide øjne hjælper den med at beskytte sit redested. Resultatet viser at andre alliker faktisk undgår at besøge redekasser, når de kan se øjnene på en allike indeni. Det er ifølge forskerne det første bevis på at lyse øjne fungerer som signaler i fugleverdenen. Resultaterne af undersøgelsen er offentliggjort i The Royal Society journal Biology Letters .
Alliker er medlemmer af kragefamilien , som omfatter fugle som krager, ravne og skovskader, og som netop er kendt for deres intelligens.
Yngler gerne i mørke hulrum.
I modsætning til de fleste andre kragefugle yngler alliker gerne i mørke hulrum (hule træer, ubrugte skorstene m.m.), som generelt er en begrænset ressource, så konkurrencen om redesteder kan være intens .
Gabrielle Davidson, University of Cambridge har foretaget en undersøgelse af mere end 100 allikers redekasser opført omkring den engelske landsby Madingley.
Resultatet viste tydeligt at når alliker, der undersøgte redekasser i forsøget, mødte et billede af en allike med lyse øjne, var de mindre tilbøjelige til at søge ind i redehullet og også mindre tilbøjelige til opholde sig udenfor kassen, i forhold til de redekasser, hvor i der ikke var lyse øjne.
/NL
Kilde: BBC Nature